Rehydrating homemade dehydrated meals while on a backpacking trip can be accomplished in various ways. I believe in minimizing fuel consumption, keeping the process simple, and using lightweight equipment. Rehydration on trail can be done on several ways.
One pot method
Insulated mug method
Freezer bag method (boil in bag)
Rehydration by using a cooking pot
This is a simple and effective method. Start by boiling water in a cooking pot. Once the water is boiling, turn off the gas stove and add the dehydrated meal, stirring it well with the water. If you don't have a pot cozy to keep the food warm, you can place the pot in a sleeping bag to retain the heat. After 15-20 minutes, the meal will be ready to eat.
rehydration by using an insulated mug
This is the method I prefer. The method is the same as with a cooking pot. Start by boiling water, then pour it into the insulated mug and mix it with the dehydrated meal. Secure the lid tightly and wait for 15-20 minutes. The meal will be ready to eat. This method has several advantages:
you can use the cooking pot for other purposes (f.eks. making coffee) while you are waiting for your meal
The lid prevents food from leaking. You can also rehydrate your meals while hiking (f. eks. rehydrating a salad for lunch with cold water takes 2-3 hours).
You dont need to wrap the insulated mug in a sleeping bag or down jacket to retain heat.
There are numerous products available in the market, offered at different price ranges, sizes, and weights. I have personally used the Fair Share mug II from GSI outdoors and the Trailbreak Lunch Jug 550 from Primus. Although both options are functional, I personally prefer the Fair Share mug. The Lunch Jug from Primus doesn't always fit all my backpacking meals, and the small mouth of the mug makes it difficult to mix the food evenly. Additionally, I've noticed that the temperature at the bottom of the mug is higher than at the top. To improve heat retention with the Fair Share mug, I created a cozy for it.
Fair Share mug II from GSI outdoors
Content: 1 liter
Weight: 193 grams
To rehydrate backpacking meals, it should be placed in a sleeping bag/down jacket/pot cozy to retain heat long enough.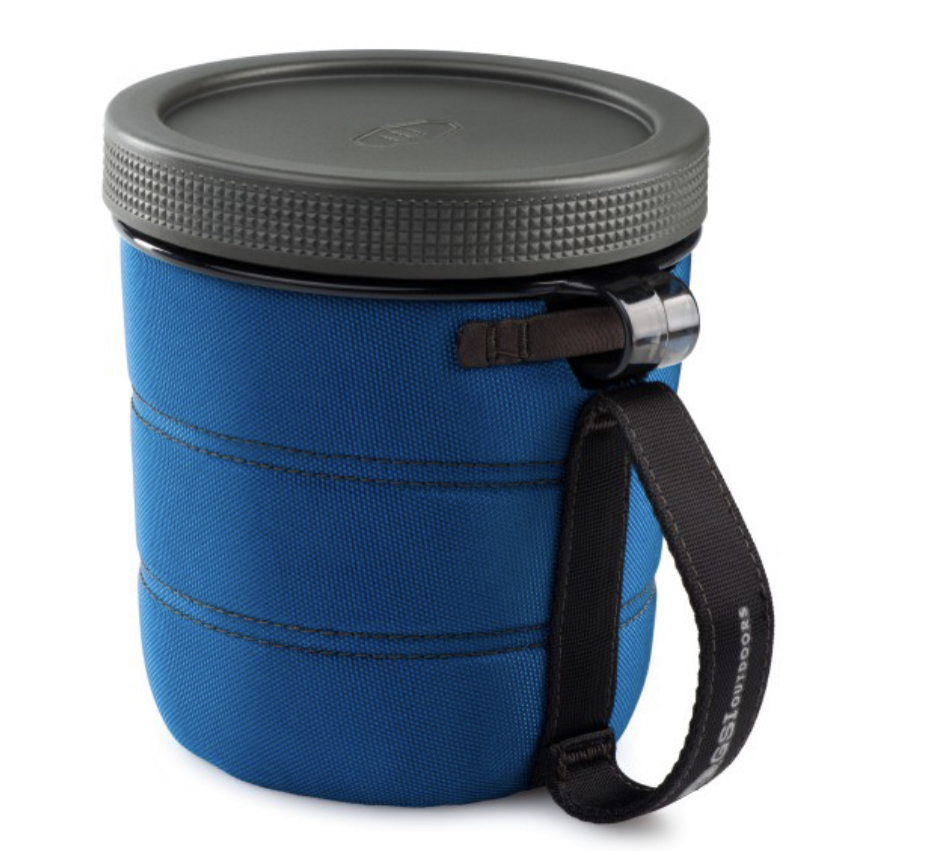 Trailbreak Lunch Jug 550 from Primus
Contents: 550 ml
Weight: 380 grams
Retains heat for many hours.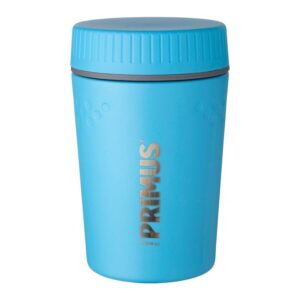 rehydration by using freezer bags/boil in bag
When using this method, start by heating the water until it is near boiling. Mix the hot water with the dehydrated meal in the freezer bag and stir thoroughly. Seal the bag tightly. To keep the heat retained, you can wrap the bag with a down jacket or place it inside a sleeping bag. Another option is to create an insulated cozy for your freezer bags.
I have never tried this method because I prefer not to eat directly from a bag. Additionally, I find it challenging to find suitable freezer bags that meet the following requirements:
Approved for food and high-temperature use
Must have a ziplock seal
Useful links