This year, I have been on several overnight trips, and the longest one lasted over a week. For all of my trips, I have been making and drying my own backpacking meals, including breakfast, lunch, and dinner. Vacuum-sealing of my backpacking meals was not an option, since I didn't own a vacuum sealer, I packed all the pre-prepared backpacking meals in ziplock bags, and it worked out well. The food was delicious, and we did not experience any health issues.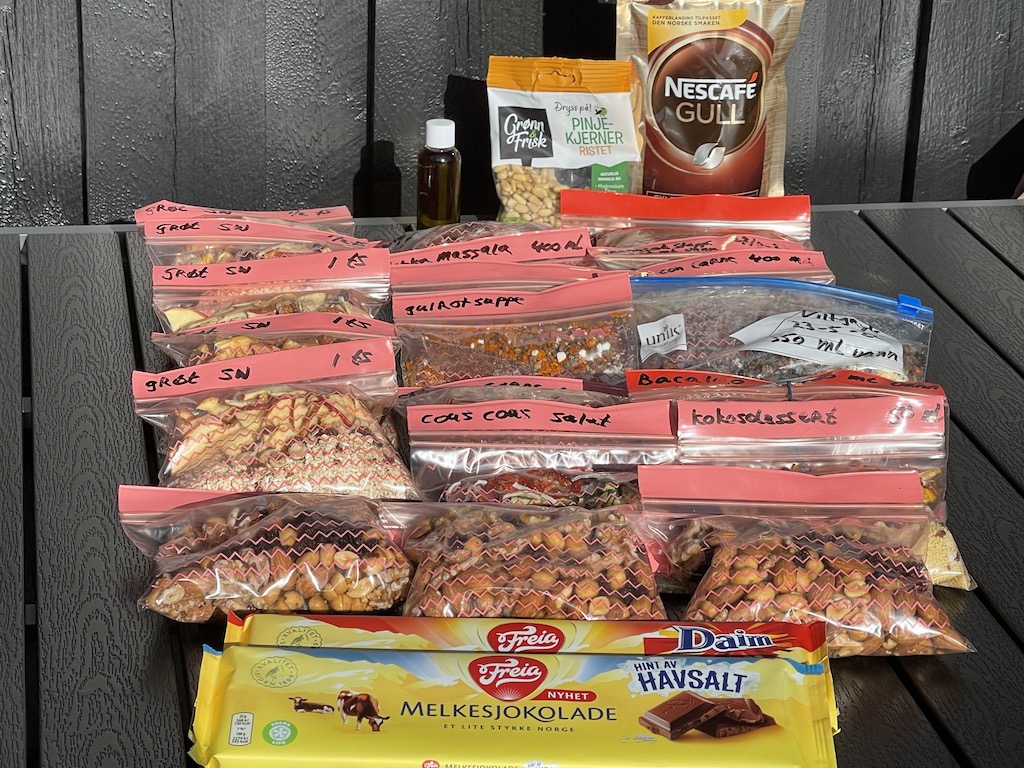 Is vacuum-sealing backpacking meals really necessary, or can regular ziplock bags do the job? These questions have been on my mind for a while. And what about the environmental impact?? Are there reusable food pouches available, and how much do they weigh?
Ziplock bags
So far, I have mostly used ziplock bags from Ikea and Unik to pack and store homemade dried backpacking meals. It worked quite well. I froze my backpacking meals in individual portions and took them out when I went on my on my hiking trips. Some meals have been in the freezer for 5 months. None of the meals have gone rancid or spoiled, not even the ones that contained meat and fish. During our week-long trip in the mountains this summer, it wasn't particularly hot, around 14 degrees on average. The food held up well. But I don't know if I would have felt as confident if the temperature had risen to 25 or 30 degrees, which we experienced in 2019. Back then, we hiked in the Tafjord Mountains at an altitude of over 1000 meters. The temperature stayed above 25 degrees Celsius for the entire week.
Puncturing ziplock bags
Many people I've talked to have encountered a common problem with ziplock bags used for packing backpacking meals . They puncture very easily. Foods like dried rice, pasta, meat, and certain vegetables can have sharp edges. This can lead to the frustration of finding partially empty bags in your backpack. Fortunate we didn't have any punctures with our food bags. It was probably because we had sufficient backpack space. We didn't need to compress everything tightly.
After careful consideration, I've realized that vacuum-sealing backpacking meals is a smart option. This is particularly advicable for longer trips and when you have fish, meat, or seafood in your food.
Puncturing vacuum-sealed bags
During my extensive online research, I discovered vacuum-sealed bags with a ziplock feature that can be reused, washed, and frozen. As someone who wants to minimize waste and be eco-friendly, it's essential for me to leave as little environmental footprint as possible. Unfortunately, these reusable vacuum-sealed bags are even more prone to puncturing than regular ziplock bags because they tightly enclose the food. However, after browsing various websites, I found a helpful solution recommended on backpackingchef.com.
Vacuum-sealing backpacking meals without punctures
To avoid any puncturing issues, I use the following method for vacuum sealing my camping food:
First, I pack the food into a regular ziplock bag. Remember to leave about a centimeter of the closure open instead of sealing it completely.
Next, I wrap the bag in kitchen paper. It's a good idea to write down the name of the dish, the required amount of water for rehydration, and the date of production on the kitchen paper.
Finally, I place the ziplock bag, wrapped in kitchen paper, into a reusable ziplock bag that is specifically designed for vacuum sealing. Now, your food is ready to be vacuum sealed.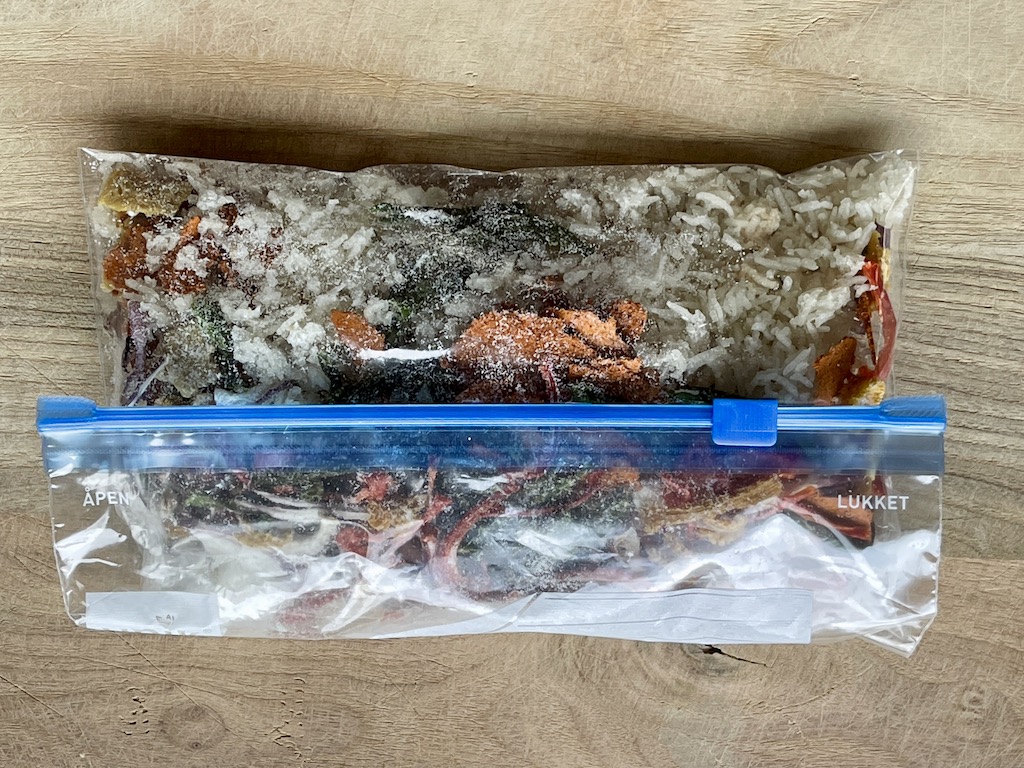 If you vacuum-seal backpacking meals using this method, the reusable ziplock bags won't get damaged or dirty, allowing you to use them multiple times. Kitchen paper is always handy on a backpacking trip as it can serve various purposes like toilet paper or cleaning up food residue. Moreover, kitchen paper can be burned during the trip.
By following this approach, you'll end up with only one ziplock bag per meal as waste, specifically the innermost bag containing the food. After conducting thorough online research, I have discovered biodegradable freezer bags that are environmentally friendly. You can reduce your waste even more by using those biodegradable freezer bags.
Ziplock bags that can be vacuum-sealed and reused
There are several brands that offer ziplock bags that can be vacuum-sealed, washed, and reused.
zwilling fresh and safe
These bags are available in small sizes of 1.25, 4, and 8.5 liters. The bags are washable and reusable.
BPA-free plastic
Hand washable
Heat-resistant up to 100 degrees Celsius
Suitable for sous-vide cooking
Freezer-safe
Microwave-safe
Price for the smallest bag: 12.90 per bag, sold in a pack of 10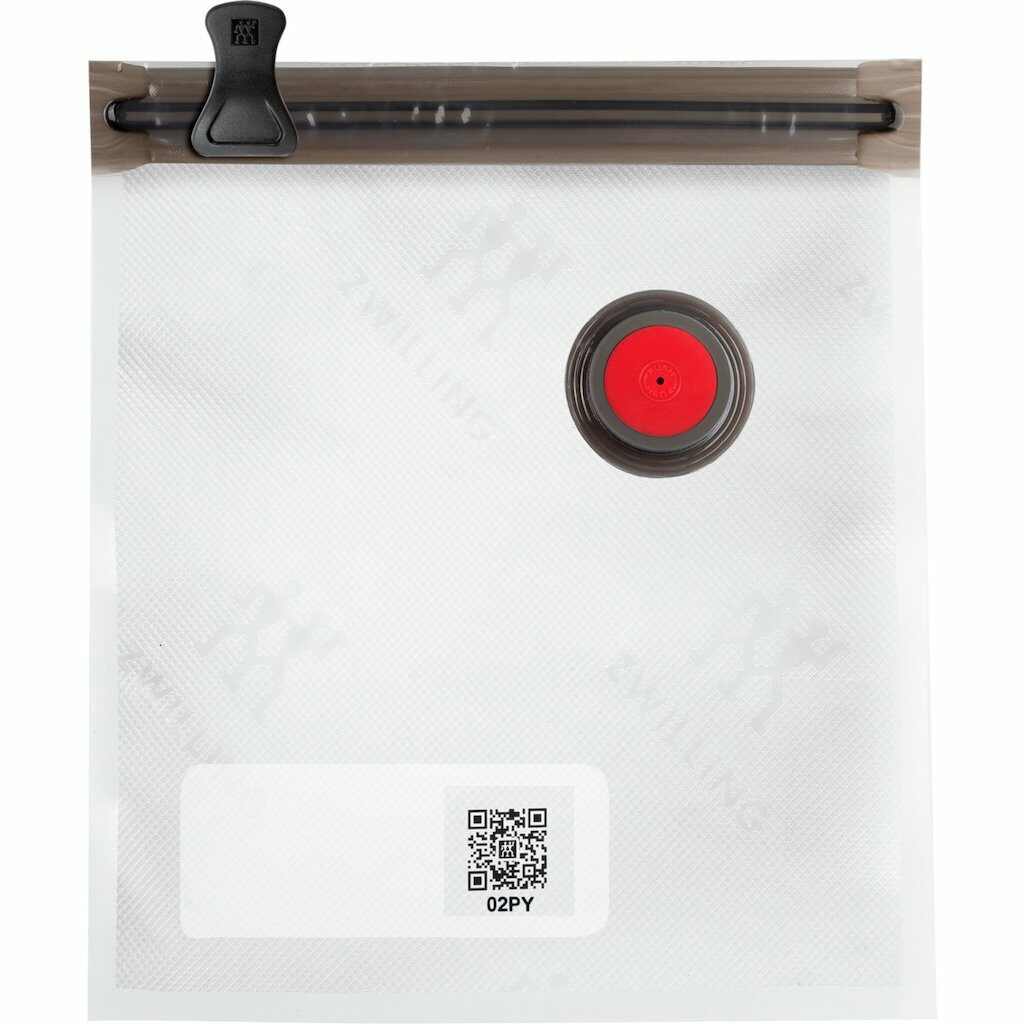 bosch vacuum bags with ziplock
These bags are available in both 1.2-liter and 3.8-liter sizes. The bags are washable and reusable.
BPA-free plastic
Hand washable and dishwasher safe
Freezer-safe
Reusable
Price for the smallest bag: 22.50 NOK per bag, sold in a pack of 10.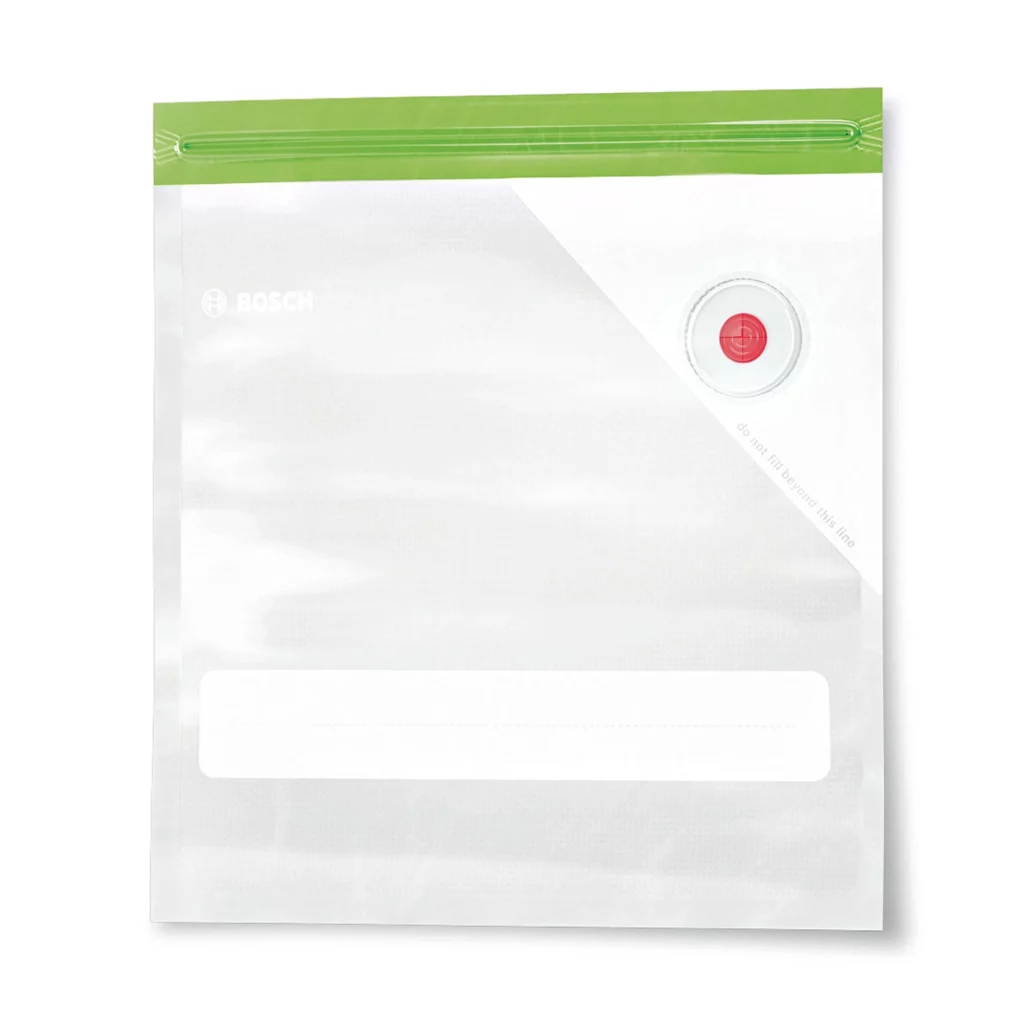 electrolux vacuum bags with ziplock
These bags have a size of 23 x 26 cm. The bags are washable and reusable. Available only in this size.
BPA-free plastic
Hand washable and dishwasher safe
Suitable for sous-vide
Freezer-safe
Microwave-safe
Price: 11.95 NOK per bag, sold in a pack of 20.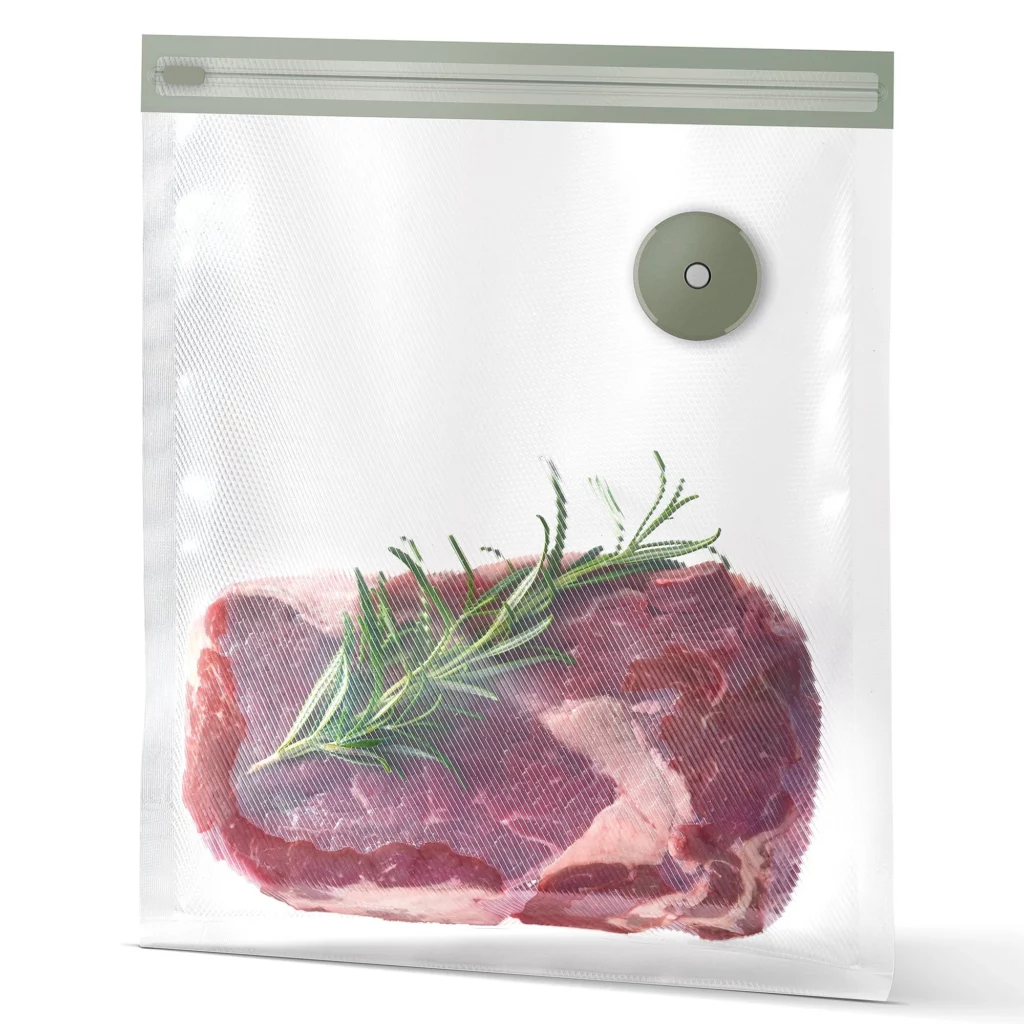 foodsaver VACUUM BAGS WITH ZIPLOCK
These bags are available in two sizes, 950 ml and 3.78 liters. The Power website states that these bags are microwave-safe, freezer-friendly, and suitable for cooking. However, upon closer inspection, this information is incorrect. Foodsaver in the USA offers vacuum bags with ziplock that are suitable for freezing, microwave use, and sous-vide. Unfortunately, these specific bags are not available for purchase in Europe or the Nordic region.
BPA-free plastic
Hand-washable
Suitable for refrigerator storage
Not suitable for freezing
Price: 12.65 per bag, sold in packs of 26.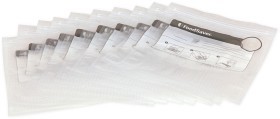 Vacuum sealers compatible with the aforementioned ziplock bags
If you're considering getting a vacuum sealer, it's wise to think about your specific needs before making a purchase. Will you be using the vacuum sealer solely for these ziplock bags? Or do you also want the flexibility to vacuum seal from rolls?
Zwilling system
Zwilling exclusively sells the Fresh & Save system, which consists of a vacuum pump designed to be used with Zwilling vacuum ziplock bags and storage containers.
Bosch system
The vacuum sealing set from Bosch can only be used if you purchase or already own a Bosch ErgoMixx hand blender, as the vacuum pump is an accessory that attaches to the hand blender. The vacuum pump can only be used in combination with Bosch vacuum ziplock bags and storage containers.
Electrolux system
The Electrolux Create Vacuum Fresh kit is a vacuum pump specifically designed to be used with Electrolux vacuum ziplock bags and storage containers. If you also wish to have the option of vacuum sealing using plastic rolls, the Electrolux ziplock bags and storage containers are compatible with the Electrolux Explore Vacuum Sealers as well.
foodsaver system
The Foodsaver Fresh vacuum sealer is a small and compact vacuum sealer that is compatible with Foodsaver storage containers (all sizes) and zip-top bags. There are different types of Foodsaver vacuum sealing machines available that can also connect to ziplock bags and storage containers. As mentioned earlier, please note that Foodsaver ziplock bags are not suitable for freezing. Are you living in the USA, then you can purchase the Foodsaver reusable quart vacuum zipper bags. These bags are freezer-safe and microwave-safe as well as suitable for freezing and sous-vide.
Conclusion
If you need to vacuum seal your backpacking food and want to minimize waste and be environmentally conscious, consider a vacuum sealer compatible with reusable ziplock bags. Zwilling and Electrolux systems are great choices if using a vacuum pump with ziplock bags and storage containers is sufficient for you. For more advanced vacuum sealing options, Electrolux offers greater versatility. I recommend conducting your own research before purchasing a vacuum sealing machine. Personally, I own a Foodsaver vacuum sealer, and I'd be highly satisfied if Foodsaver ziplock bags were suitable for freezing.
Useful links