There's nothing better than being able to enjoy a good and satisfying meal after a long hike in the mountains. That's where this meal comes in handy! Mashed potatoes with broccoli, cauliflower, and ground beef is a delicious and easy-to-prepare dish.
I dehydrate the cooked ground beef, vegetables, and mashed potatoes individually. This approach also allows for easier portion customization based on individual needs.
ingredients 1 serving
50g dried mashed potatoes
37g dried lean ground beef
15g dried cauliflower
15g dried broccoli
1/2 tsp vegetable bouillon
1/8 tsp pepper
2 tbsp milk powder
1 tbsp butter powder
Storage
Store the dried ingredients in a n zip lock bag or vacuum bag. Pack milk and butter powder separately.
on trail
Mix 350 – 400 ml boiled water with the ground beef, veggies and milk/butter powder blend. Stir well. Put the pot or thermos in a sleeping bag or wrap it in a down jacket to keep the food warm. After 15 to 20 minutes the meal should be fully rehydrated. Stir well again before eating. Enjoy your meal!
How to dehydrate ingredients for mashed potatoes with broccoli and ground beef
dehydrating e vegetables
You can find all the information you need about dehydrating mashed potatoes, broccoli and cauliflower on this page.
Dehydrating lean ground beef
When dehydrating ground beef, it's important to use lean meat with no more than 10% fat content. I prefer using lean ground beef with a maximum of 5% fat. Fatty meat dehydrates poorly and can easily become rancid during long-term storage. Meat containing high levels of fat has a limited shelf life.
Ingredients
400 grams of lean ground beef
1 yellow onion, finely chopped
4 garlic cloves, minced
Salt, pepper, and paprika powder
1 tsp of coconut oil
In a non-stick frying pan, heat the coconut oil and cook the ground beef, onion, and garlic. Use a spatula to break up the meat while it cooks. Season with salt, pepper, and paprika powder during the cooking process. Spread the ground beef mixture onto one or more drying trays lined with Paraflexx drying sheets.
Temperature: 63°C
Drying time: 7-11 hours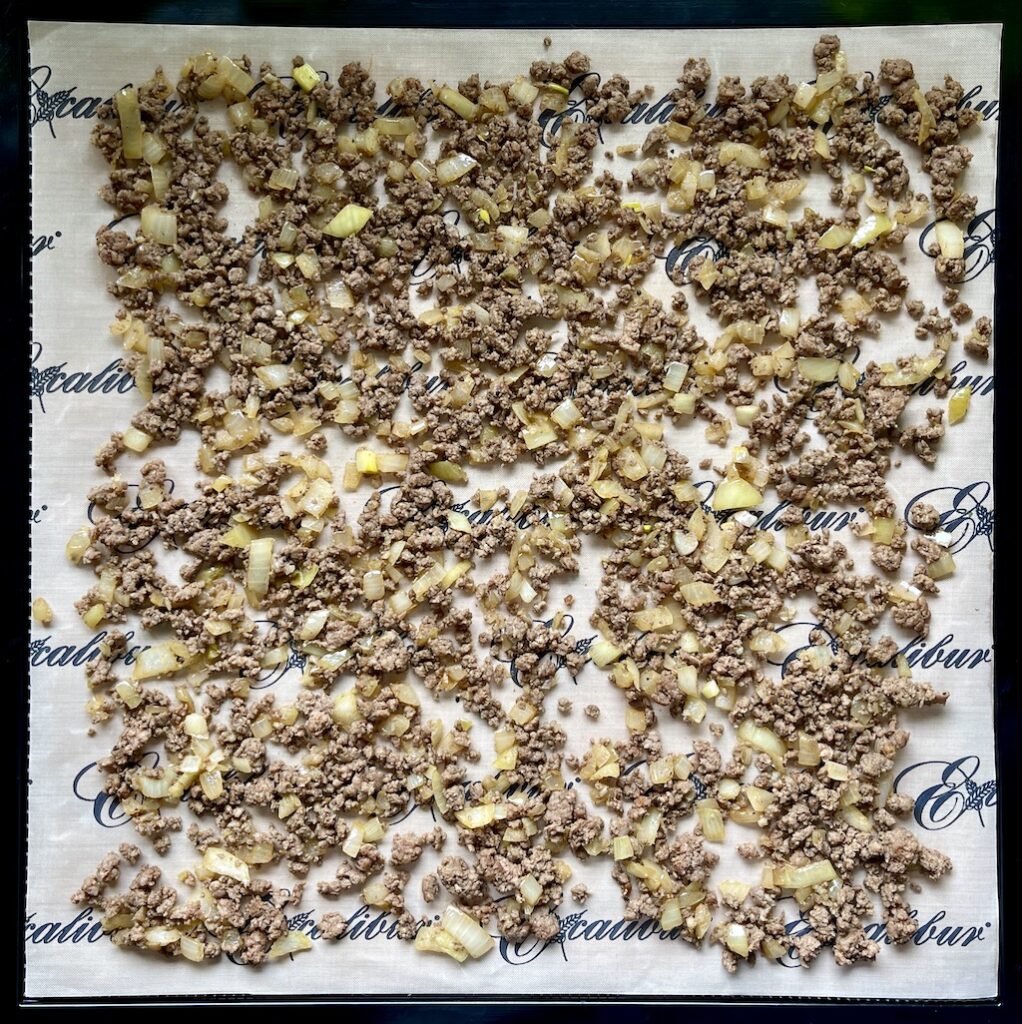 v
Useful links
Publication date