Pad Thai with tofu and shrimps is one of my favorite dinner dishes. I discovered it through my daughter, who lives in Oslo and has a talent for finding restaurants that serve delicious food. I instantly fell in love with this flavorful dish! Pad Thai is a combination of stir-fried rice noodles, eggs, and tofu. The dish is infused with the richness of tamarind paste, fish sauce, shrimp, garlic, red chili, and a touch of sugar. It is traditionally garnished with lime wedges and roasted peanuts. While there are various versions of Pad Thai, each with its own unique twist, they all capture the essence of this popular Thai street food.
I have tried to create a version that is suitable for drying, so I can also enjoy this dish on hikes. To achieve this, I made a few adjustments to the traditional recipe. For instance, I omitted eggs, as they are not suitable for drying at home. Additionally, I incorporated a variety of vegetables to enhance the flavors and textures. Please note that my Pad Thai variation is quite spicy. If you don't like spicy food, I recommend reducing the amount of ginger or omitting it entirely.
Dehydrating tofu
Drying tofu can be a challenging. I've experimented with different methods and found that cubed tofu tends to remain hard and chewy after rehydration. To overcome this, I decided to grate the tofu roughly using a grater and it turned out well. The grated tofu retains its softness and absorbs flavors beautifully upon rehydration. One crucial tip is to freeze the tofu overnight, still in its packaging, and then thaw it before grating. This technique, developed by backpackingsjef.com, ensures that the tofu retains its desired texture without becoming hard and chewy.
Dehydrating the fish sauce
Another challenge lies in dehydrating the fish sauce. If your dehydrator is situated indoors, I strongly advise finding a Pad Thai variation that does not require fish sauce! Dehydrating a dish containing fish sauce can produce a pungent odor that lingers for hours during the drying process. I relocated my food dehydrator to the garage, which resolved the issue.
Ingredients pad thai with tofu – 4 servings
1 packet of rice noodles
1.5 tsp of coconut oil
1.5 red onions (180 gr.), thinly sliced
3 carrots (175 g), cut into small cubes
1 red bell pepper (150 gr.), cut into small cubes
25 gr. finely grated ginger (optional; if you prefer non-spicy, you can omit ginger)
5 cloves of garlic (30 gr.), minced
1 can of bean sprouts (Rema)
1 block of firm tofu (Helios – 270 gr.), roughly grated (important to freeze and thaw the tofu before use)
1 tbsp of sriracha sauce
60 ml of honey
3 tbsp of fish sauce
1 tbsp of tamarind paste
60 ml of water
1 can of shrimp in brine (200 gr. from fiskemannen)
peanuts
Salt and pepper to taste
How to make the pad thai
Cut all the ingredients as indicated and roughly grate the tofu.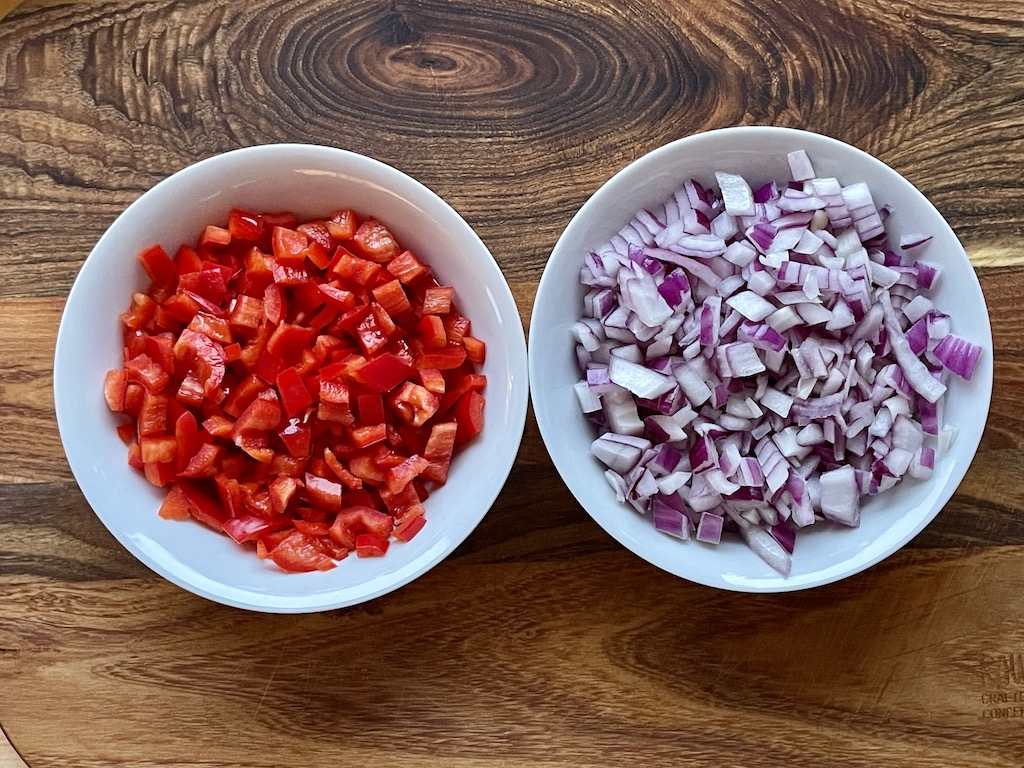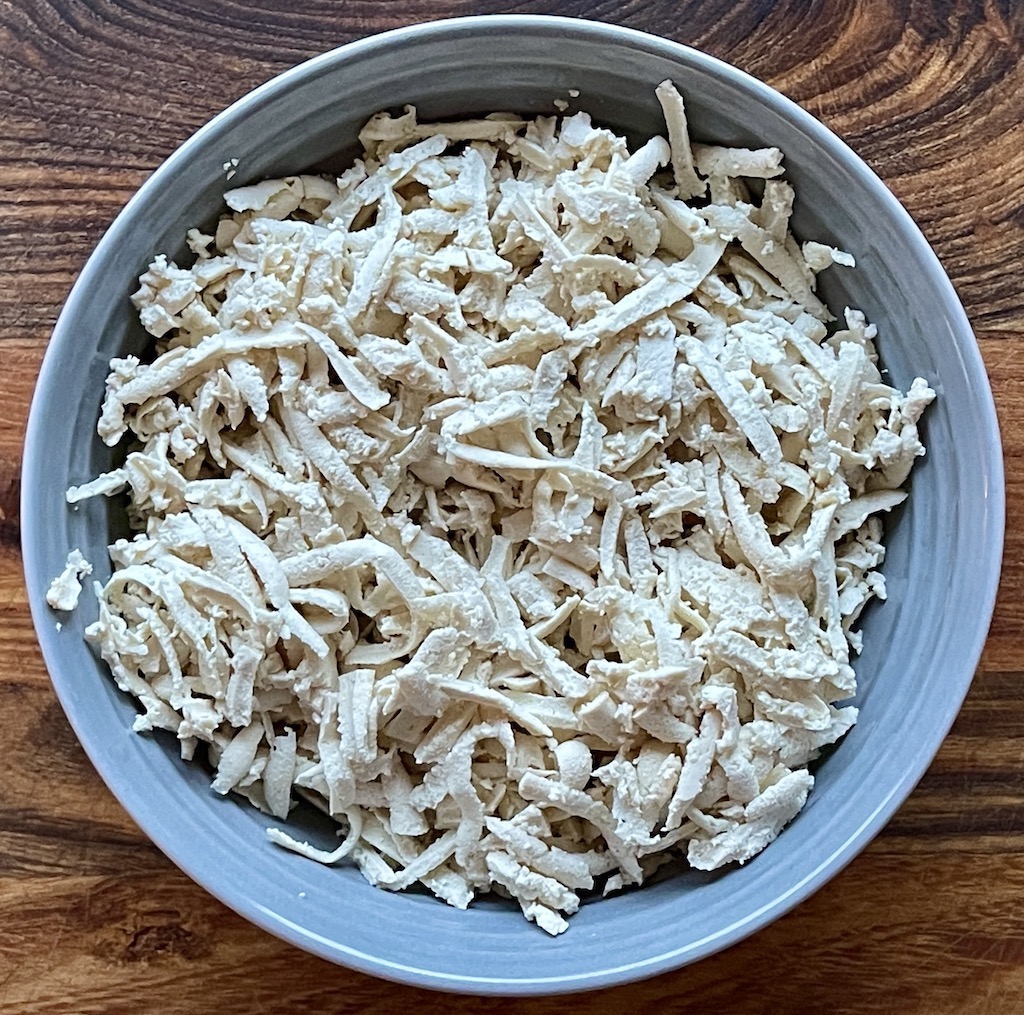 Melt 1 teaspoon of coconut oil in a non-stick frying pan and sauté the onion, garlic, and ginger until the onion is translucent. Add the grated tofu, season with salt and pepper, and continue to sauté for a few minutes. Make the Pad Thai sauce by mixing Sriracha, Tamarind, honey, water, and stir well until all the ingredients are well combined. Add the sauce to the tofu/onion/garlic/ginger mixture and let it simmer on low heat until the tofu has absorbed all the sauce. Meanwhile, melt 0.5 teaspoon of coconut oil in another non-stick frying pan and sauté the diced red bell pepper and carrots until they are tender.
Once both the tofu mixture has absorbed the Pad Thai sauce and the carrots and red bell peppers are tender, add the sautéed red bell pepper, carrots, and bean sprouts to the tofu mixture. Let it simmer for a few more minutes. Now the Pad Thai is ready to be dried in a food dehydrator.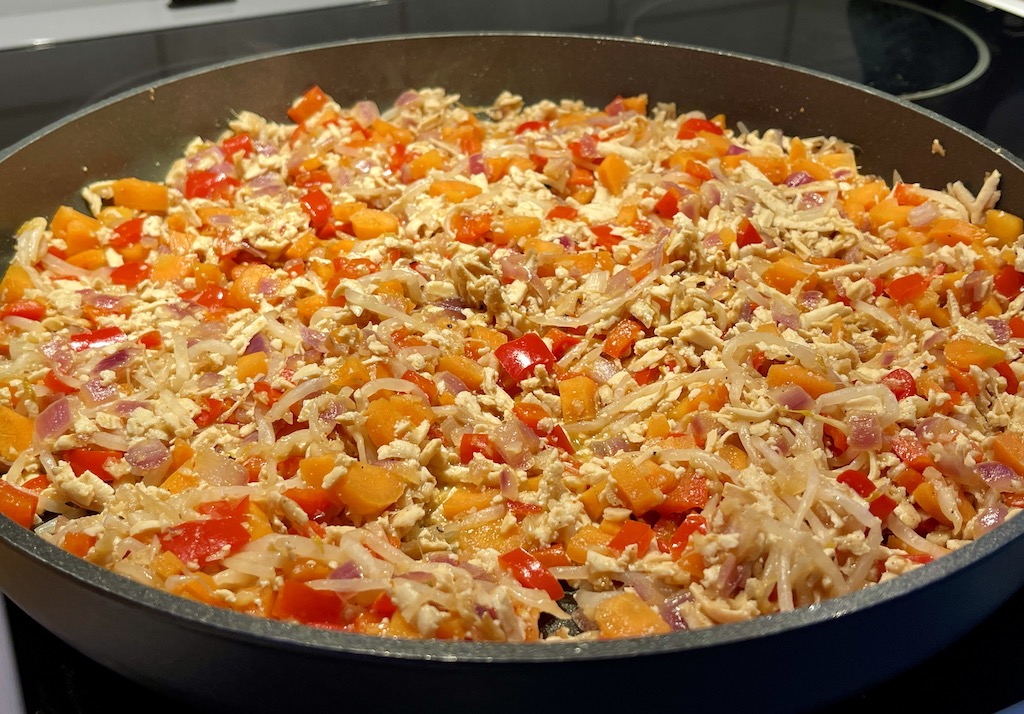 Drying the tofu and vegetable mixture
Spread the tofu and vegetable mixture evenly over 3 drying trays lined with Paraflexx drying sheets.
Temperature: 57 °C
Drying time: 8-10 hours
Once the mixture is completely dried, it will have a firm and crispy texture, and it will easily separate from the drying sheets.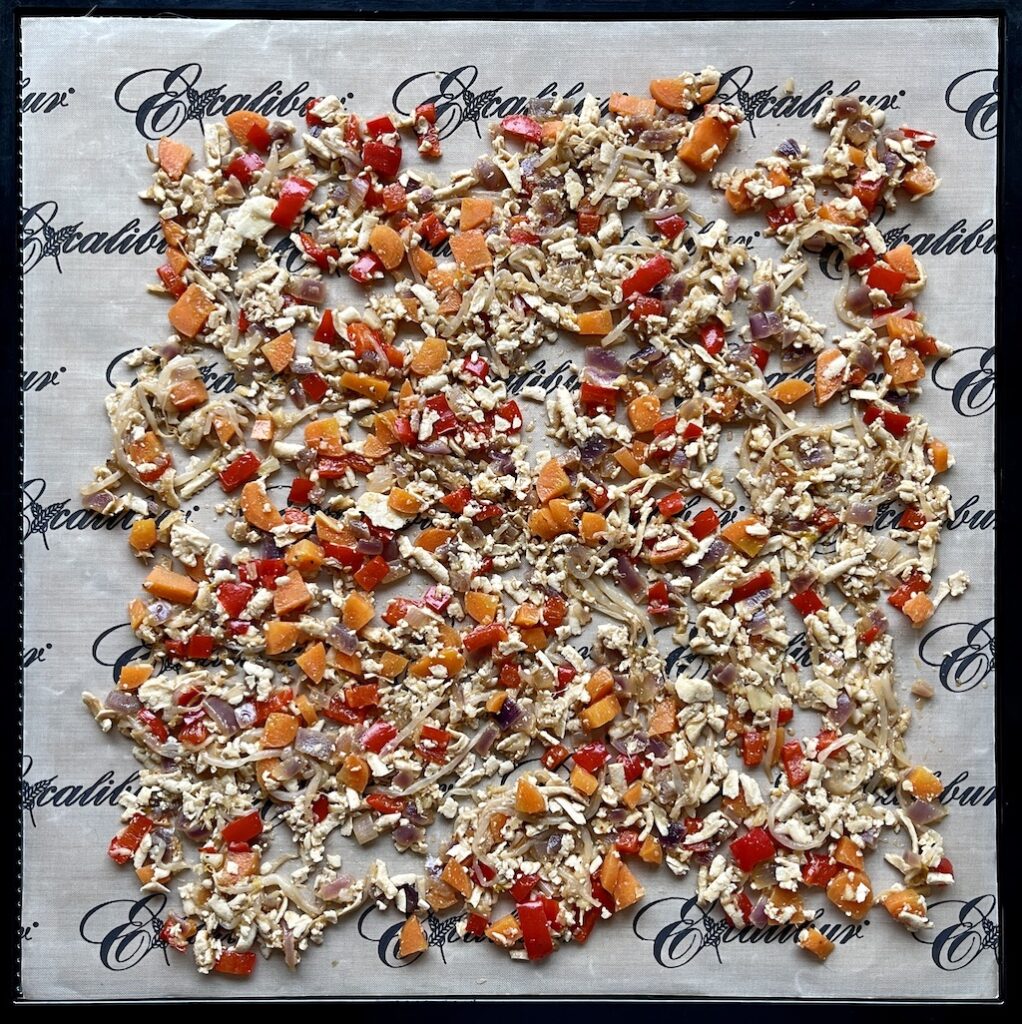 Dehydrating the shrimps
For this purpose, I have purchased shrimps in brine, and they work well for drying. Since the shrimps require a higher drying temperature, they should be dried separately from the tofu and vegetable mixture.
Rinse the shrimps under cold water and let the water drain in a colander. Spread the shrimps evenly on a drying tray.
Temperature: 63 °C
Drying time: 6 to 7 hours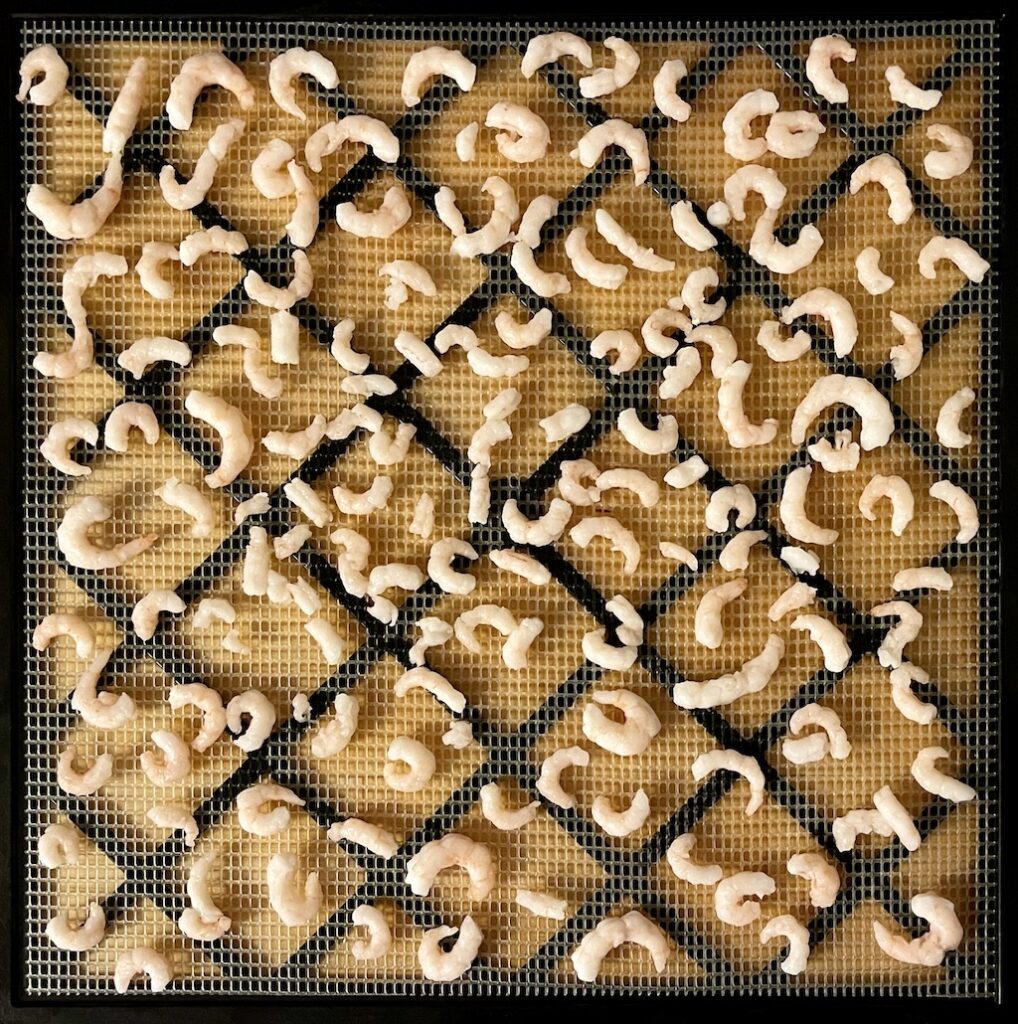 Storage
Divide the tofu and vegetable mixture, shrimps, and rice noodles into 4 ziplock bags or vacuum-sealed bags. Make sure the bags are securely sealed to prevent any leaks. Pack the peanuts separately.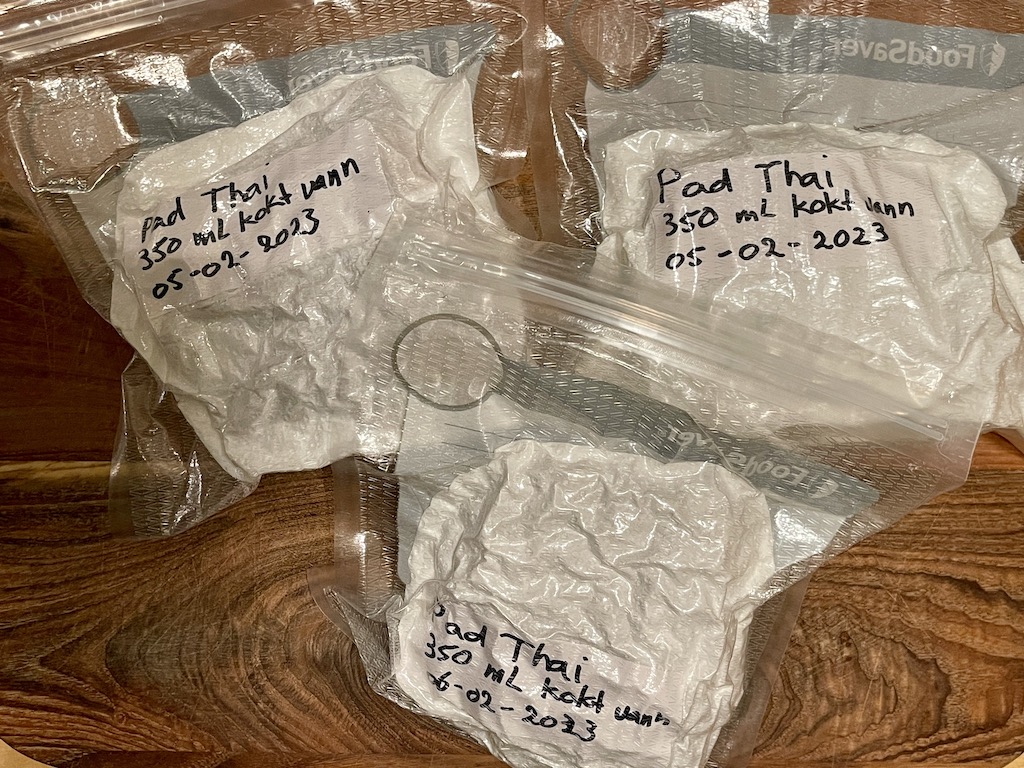 on trail
Boil 350 ml of water per serving. Mix the water and food in a thermos cup, pot, or insulated container, and stir thoroughly. If using a thermos cup or pot with limited insulation, it's recommended to place it inside a sleeping bag to retain the heat. Let it sit for 15 to 20 minutes. Stir well once more and sprinkle with peanuts. Your meal is now ready to be enjoyed!
useful links
Publication date