Spaghetti Bolognese is a popular dinner choice for a backpacking trip. It's easy to make and tastes incredibly delicious. I recommend using either penne or fusilli instead of traditional spaghetti. Due to their shape, penne or fusilli tend to dry better than spaghetti. The recipe is quite spicy, so if you're not a fan of spicy food, you can omit the chili powder.
Practical tips
Use a non-stick frying pan with a Teflon coating to cook ground beef and vegetables with minimal fat. Too much fat can affect the drying process. Additionally, using excessive fat can reduce the shelf life of the food, leading to potential spoilage when stored for extended periods. Dry the sauce and pasta separately.
Ingredients 4 servings
300 gr. whole grain fusilli or penne
500 gr. lean ground beef – maximum 5% fat
1 tsp coconut oil
180 gr. finely chopped onion
15 gr. pressed garlic
2 red bell peppers, diced into small cubes
200 gr. zucchini, quartered lengthwise and thinly sliced
1 can crushed tomatoes
200 ml water
1/4 tsp chili powder
2 tsp paprika powder
1/2 to 1 tsp salt – to taste
1/2 tsp pepper
1 tbsp sweet soy sauce
2 tbsp tomato paste
1 tbsp sweet chili sauce
1 tbsp Provence seasoning
Tilberedning Spaghetti bolognese
Cook the pasta according to the instructions. Once it's cooked al dente, rinse the pasta thoroughly under cold water and set it aside.
In a pan, brown the ground beef, onion, and garlic. Make sure to break up the ground beef into small pieces. Add chili powder, paprika powder, cayenne pepper, salt, pepper, and Provence seasoning, and let it sauté for 1 minute. Stir in the bell pepper and squash and let it sauté for 5 minutes. Add tomato paste, chili sauce, and soy sauce, and mix well.
Now, transfer the sauce to a pot and add crushed tomatoes and 200 ml of water. Let the sauce simmer for 10 to 15 minutes. Taste the sauce and adjust the seasoning if necessary.
How to dehydrate spaghetti bolognese
Before starting the drying process, it's advisable to cool down the sauce a bit by placing the pot in cold water. I used 3 drying trays with baking sheets for the sauce and 3 drying trays (without baking sheets) for the pasta. As the pasta dries faster than the sauce, they should not be mixed together.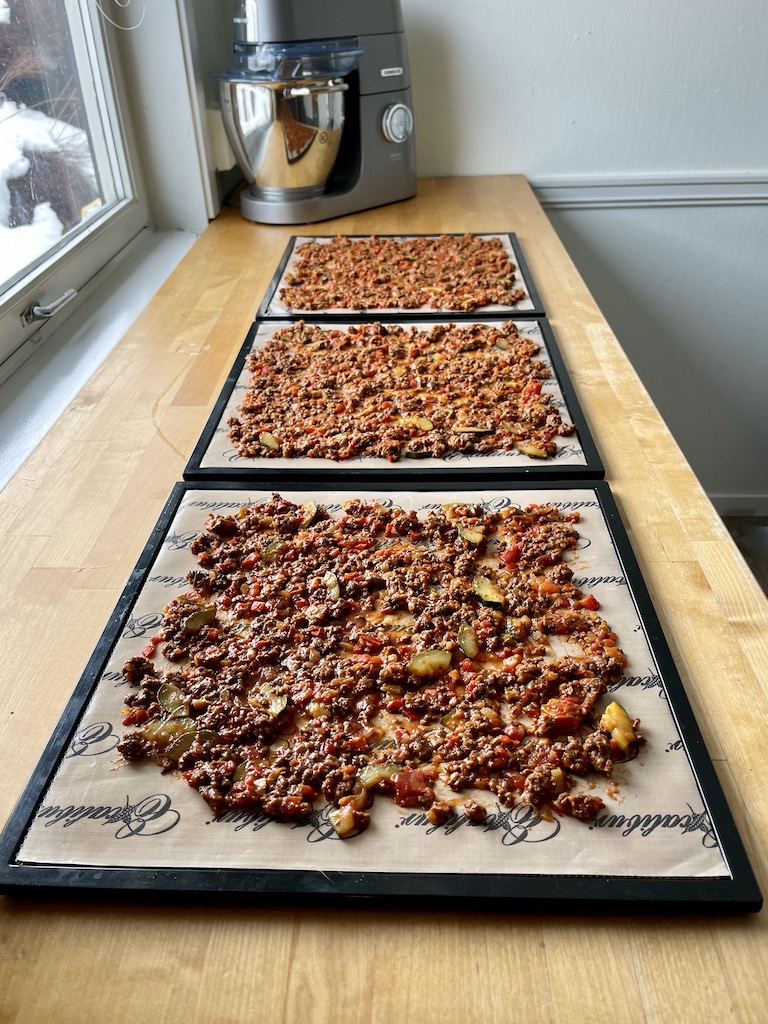 Temperature: 63°C
Drying time pasta: 4 hours. When it is fully dried, it looks exactly like uncooked pasta. I used a drying sheet on the drying trays, which is not necessary.
Drying time sauce: 9 hours. Drying time can vary depending on ventilation, humidity, and the temperature in the location where the machine is placed.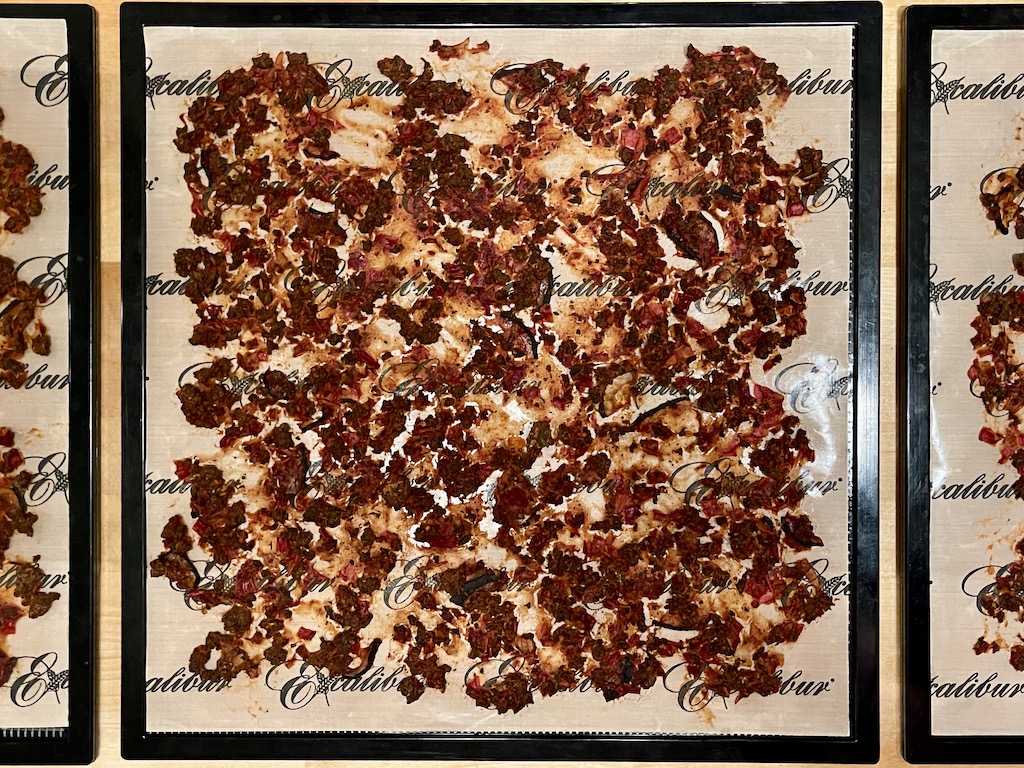 Storage
Scrape all the sauce off the drying sheets and transfer it to a bowl. Weigh the sauce and divide it into 4 plastic bags or containers. Similarly, weigh the dried fusilli and distribute it among the same bags or containers. For optimal Shelf life, it is preferable to vacuum-seal the food and store it in a dark place. However, if you don't have a vacuum sealer, freezing the food is a suitable alternative.
On trail
For rehydrating the food, you can use a pot, thermos cup, or any other container with a lid. I often use a thermos cup (see the picture) for this purpose.
Boil 300 ml of water per serving. Add the dried food, stir well, cover with a lid, and place the pot/cup inside a sleeping bag or insulated jacket to keep the food warm. Allow it to sit for 15-20 minutes. Stir well again before eating.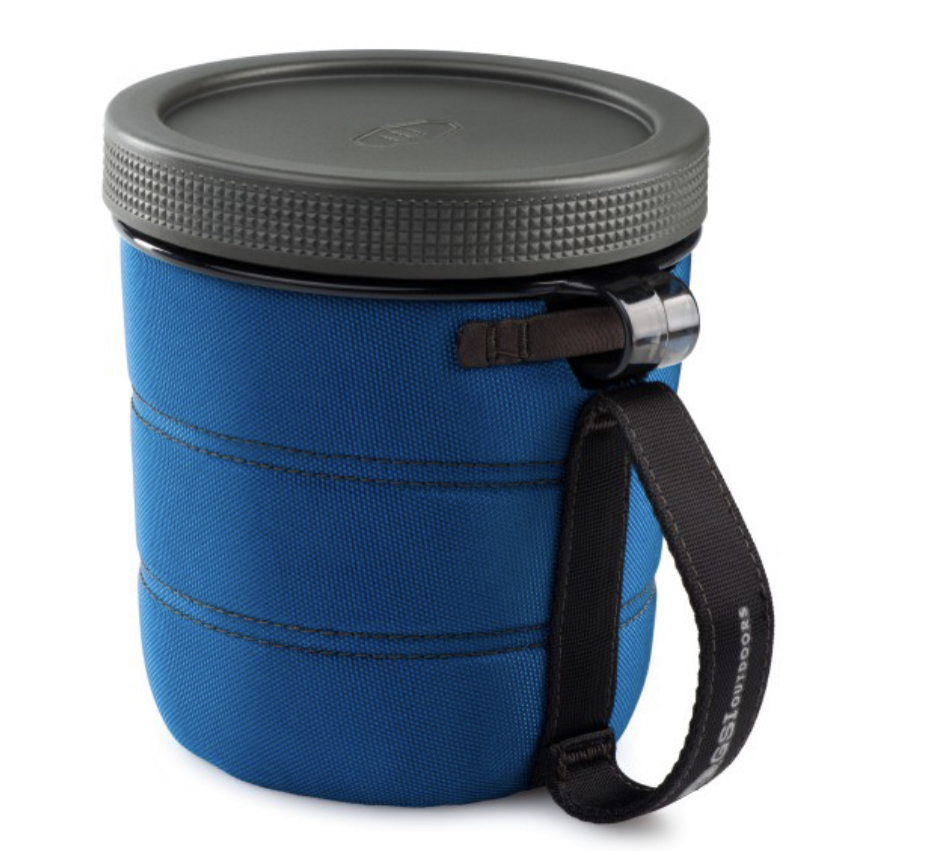 Useful links