Tikka masala is a dish that I absolutely love. It is flavorful, satisfying, and incorporates many healthy ingredients. The origins of Tikka masala are uncertain, but it is believed to have been created in an Indian restaurant in the United Kingdom between the 1950s and 1970s. "Tikka" refers to boneless meat, while "masala" signifies a spice blend. In my version, I have omitted the chicken as drying chicken breast can be challenging. However, using canned chicken is more suitable for drying in a food dehydrator. Nonetheless, the dish is still incredibly delicious even without the chicken, which is why I've created a recipe for a vegan tikka masala version.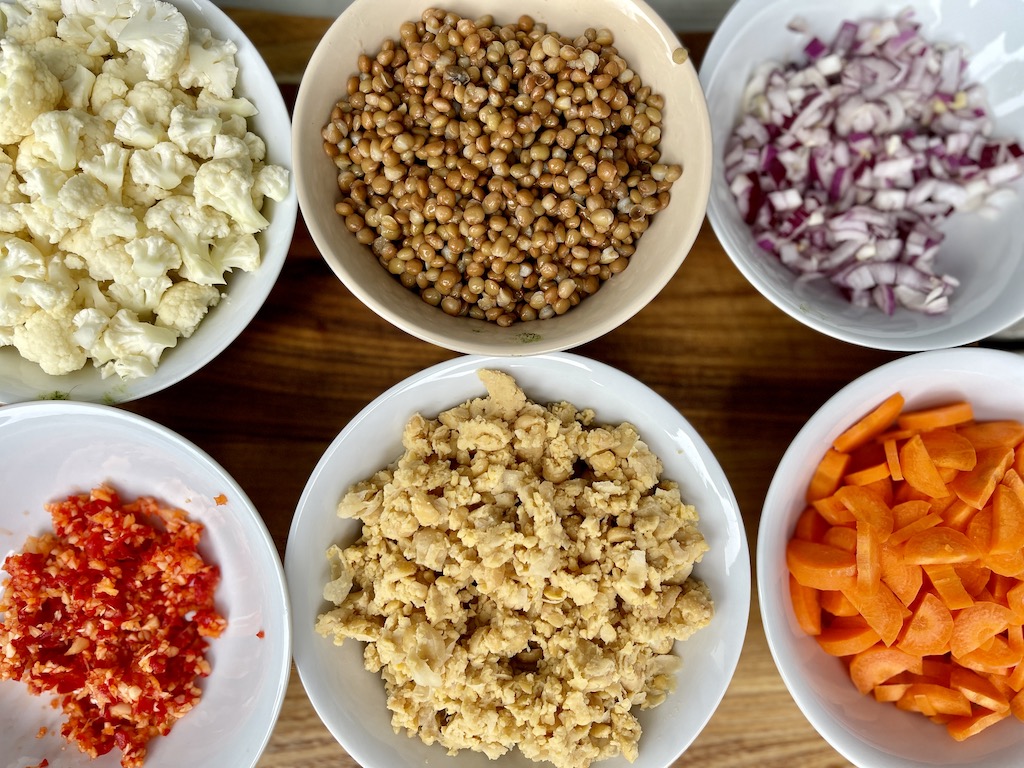 Price
I have calculated the cost of the meal, considering both the use of organic and conventional ingredients. The calculation does not include lime juice, sugar, spices, sweet soy sauce, or electricity consumption. The ingredients were purchased from Kiwi and Coop in July 2022. Here's the breakdown:
Organic: 40.60 NOK per person
Non-organic: 26.85 NOK per person
Nutritional content
It is important to know the nutritional content of backpacking meals. This way, you can calculate the number of calories per meal and ensure you're getting enough nutrients. Here is the nutritional content for vegan tikka masala:
Protein: 20.3 grams
Carbohydrates: 81.7 grams
Fiber: 14.5 grams
Fat: 13.9 grams
Calories: 552
Before you get started
I have used both chili pepper and cayenne pepper as I enjoy spicy food, but they can be omitted if you prefer a milder version. If you are vegan or have gluten intolerance, you can replace regular soy sauce with gluten-free tamari and add a little extra sugar.
In my first try, I used whole chickpeas for the dish. However, during the rehydration process, I found that the chickpeas did not fully rehydrate to my desired texture. There was still some chewing resistance, which I felt was too much. Therefore, for my second attempt, I coarsely chopped the chickpeas using a immersion blender, and this resulted in perfectly rehydrated food. It's important to note that using canned chickpeas, rather than dried chickpeas that require soaking overnight, is recommended for better rehydration results.
ingredients – 3 servings
230 gr. cauliflower, divided into small florets of about 1×1 cm (about half a cauliflower)
150 gr. carrots, cut into small cubes
80 gr. red onion, chopped
1 can of chickpeas
1 can of red lentils
3 cloves of garlic, pressed
1 red chili, finely chopped
2 cm ginger, finely chopped (about 13 gr.)
1 tsp coconut fat for frying
1/8 tsp cayenne pepper (can be omitted)
1/2 tsp ground cumin
1/8 tsp chili powder
1/2 tsp coriander
2 tsp garam masala
1 tbs tomato paste
1/2 vegetable broth tablet
1 DL water
1 can (400ml) crushed tomatoes
1.5 dl basmati rice
6 tbs coconut milk powder
1 to 2 tbs sweet soy sauce (to taste)
A little lime juice (to taste)
A little sugar (to taste)
preparation instructions
Place the chickpeas in a strainer and thoroughly rinse them under cold running water. Use an immersion blender to roughly chop the chickpeas, being careful not to turn them into a puree.
Similarly, rinse the lentils in a strainer under cold running water.
In a Teflon-coated frying pan, melt coconut oil and sauté ginger, onion, garlic, and chili until the onion becomes glossy. Add cauliflower florets and carrots, and continue cooking for a little while. Introduce tomato paste and spices, and cook for approximately 1 minute.
Transfer the mixture to a pot and add crushed tomatoes, water, vegetable stock, and soy sauce. If the sauce appears too thick, you can add some extra water. Allow the sauce to simmer for 10 minutes.
Incorporate the lentils and chickpeas into the sauce, and let it simmer for another 5 minutes.
Adjust the seasoning of the sauce with lime juice, a touch of sugar, and, if needed, additional soy sauce.
Follow the instructions on the rice package to cook the rice.
Dehydrating vegan tikka masala
Evenly spread the sauce across three drying trays. Similarly, spread the rice over three separate drying trays. Place drying sheets on all trays to prevent the sauce and rice from falling through.
Temperature rice: 63 degrees Celsius.
Drying time rice: 4-5 hours.
Temperature sauce: 57 degrees Celsius.
Drying time sauce: 9 -11 hours.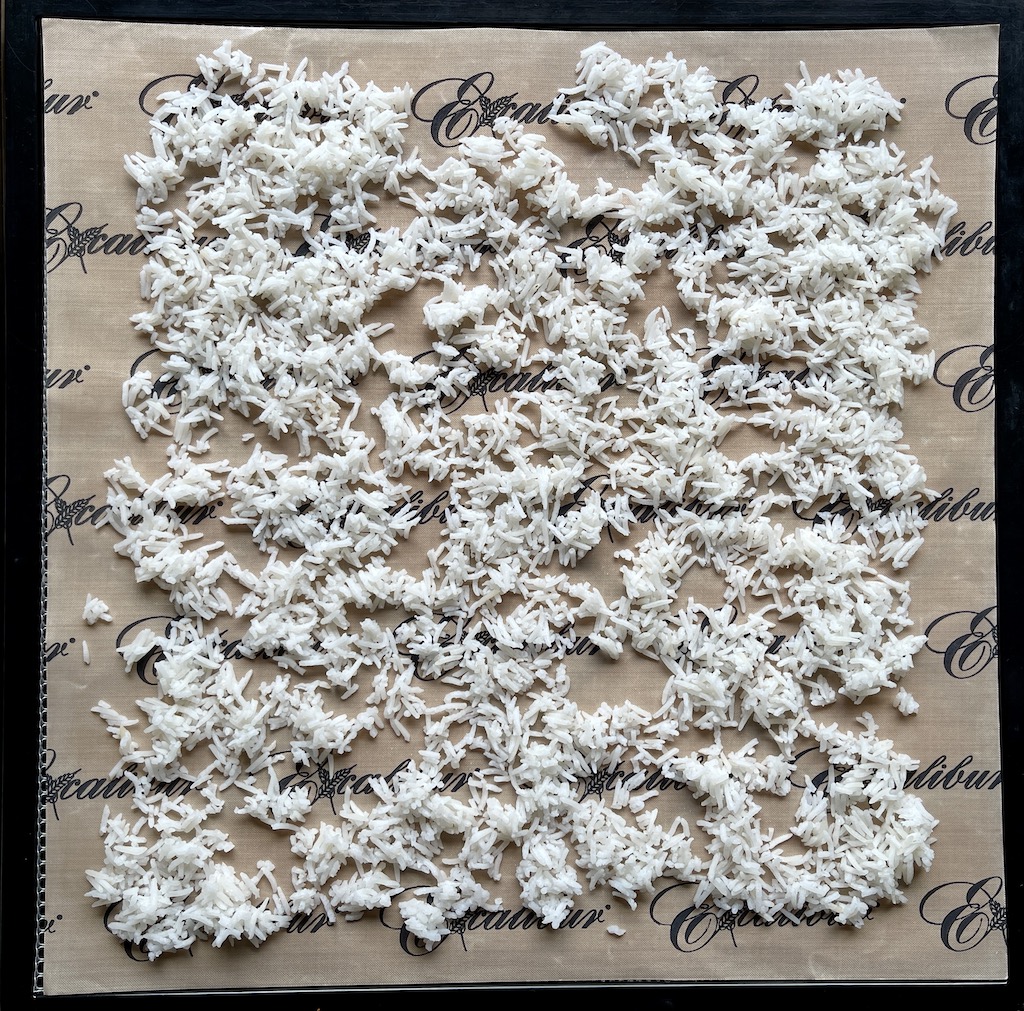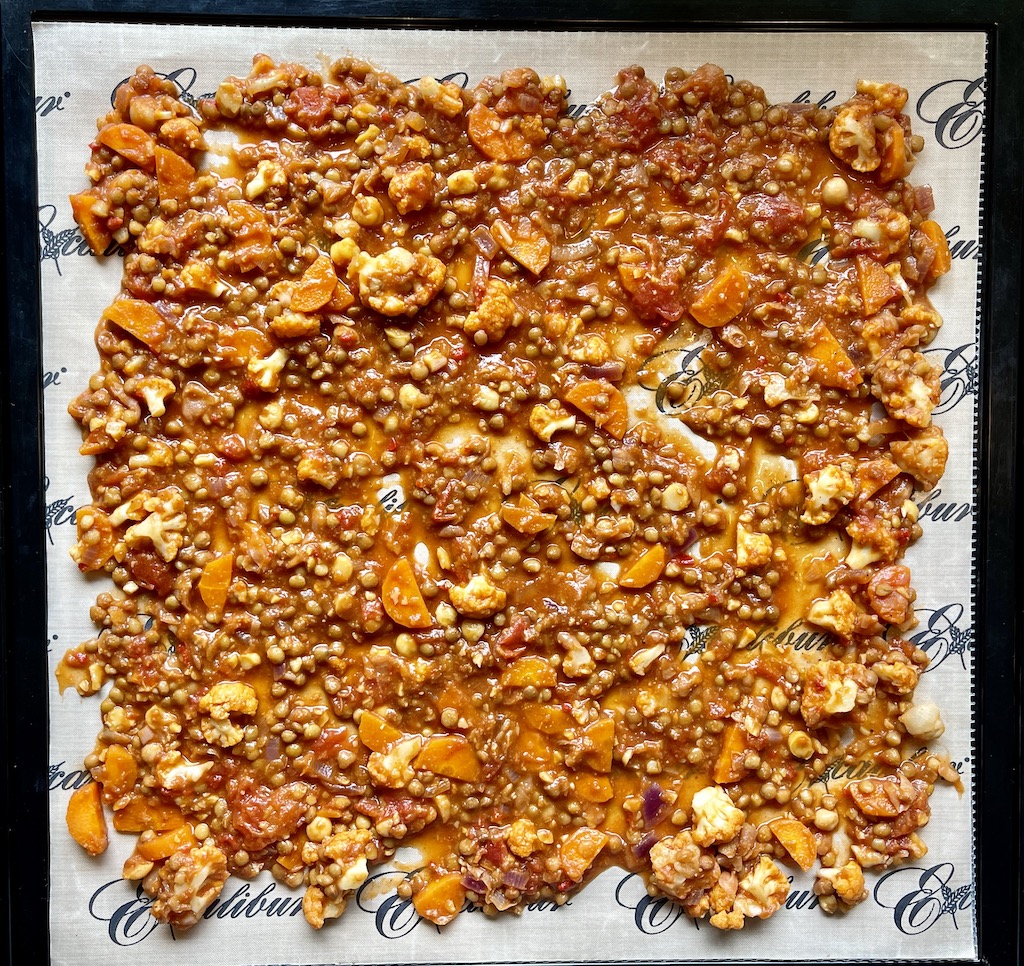 Storage
Divide both the sauce and rice evenly among three ziplock bags, airtight containers, or vacuum-sealed bags. Add 2 tablespoons of coconut milk powder to each bag. If desired, you can freeze the prepackaged food to extend its shelf life.
On trail
Boil 400 ml of water per serving. In a thermos cup, pot, or thermos, combine the boiled water with the food and stir thoroughly. If you are using a thermos cup or pot with minimal insulation, it is advisable to place it inside a sleeping bag to help retain the heat. Allow the mixture to sit for 15 to 20 minutes. Give it another good stir, and your food is now ready to be enjoyed!
Useful links