Would you like a refreshing salad with lots of nutrition and calories for lunch or dinner? Then Quinoa salad with mango, chili and walnuts is the perfect choice! This salad is also gluten-free, dairy-free and vegan.
Quinoa, a gluten-free seed originally from South America, is a nutritional powerhouse that offers numerous health benefits. Packed with nutrients, quinoa is rich in protein and boasts a high fiber content. Additionally, it contains antioxidants and serves as an excellent source of calcium, phosphorus, iron, folate, riboflavin, and magnesium. It's no wonder quinoa is considered perfect hiking food!
On trail, the quinoa salad is prepared with cold water and is therefore perfect for lunch. After breakfast, simply mix the dried salad ingredients with cold water in your thermos and let it sit until lunchtime.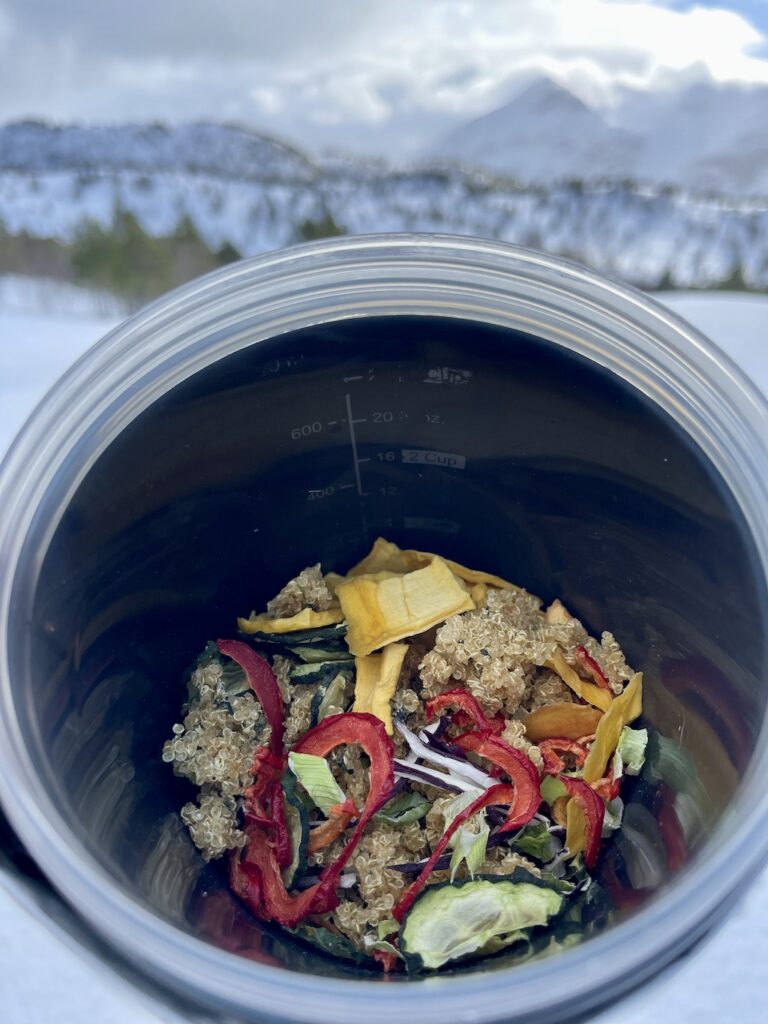 Ingredients quinoa salad with mango, chili and walnuts – 4 serverings
2.5 dl quinoa
5 dl water
1 mango
zest and juice of 1 organic lemon
2 teaspoons vegetable broth
1 cup chopped fresh coriander (25 gr.)
1 red chilli, finely chopped
1 cucumber
1 small red onion
1 red bell pepper
2 tablespoons of honey
4 tablespoons extra virgin olive oil
salt and pepper
Preparing the quinoa salad
Rinse the quinoa thoroughly to remove any bitter substances before cooking. In a pot, bring 5 dl of water to a boil. Add vegetable powder and quinoa to the boiling water, and stir well. Reduce the heat to low and let the quinoa simmer for approximately 10 to 15 minutes, or until all the water is absorbed.
Remove the pot from heat, cover it, and allow the quinoa to steam for an additional 10 minutes. Fluff up the quinoa gently with a fork to separate the grains.
In a separate bowl, mix lemon juice, lemon zest, finely chopped chili, and honey. Add the lemon mixture and chopped coriander to the quinoa, and mix well to evenly distribute the flavors.
Season with pepper and salt according to your preference. Note that the quinoa mixture may have a slightly sour and strong taste at this point, but it will balance out during trail preparation.
Drying the quinoa salad
Spread the salad over 2 drying trays with paraflexx drying sheets and place the trays in a dehydrator.
Temperature: 57 °C
Drying time: 4 to 6 hours
The mixture should be completely dry and feel brittle. It should be easy to remove the mixture from the drying sheet.
Drying the other ingredients
I have several mason jars with dried fruit and vegetables in stock. For this salad, I didn't need to dry these vegetables, as they are already dried and stored in my cupboard. If you do not have these dried ingredients in stock, you can dry the mango at the same time as the quinoa salad, and do a separate drying round for the paprika, cucumber and onion.
Drying mango
Use a mandoline to cut the mango into equal pieces:
Thickness of slices: 1 cm
Temperature: 57 °C
Drying time: 9 to 12 hours
The mango slices are leathery when fully dried. They should not stick together during storage.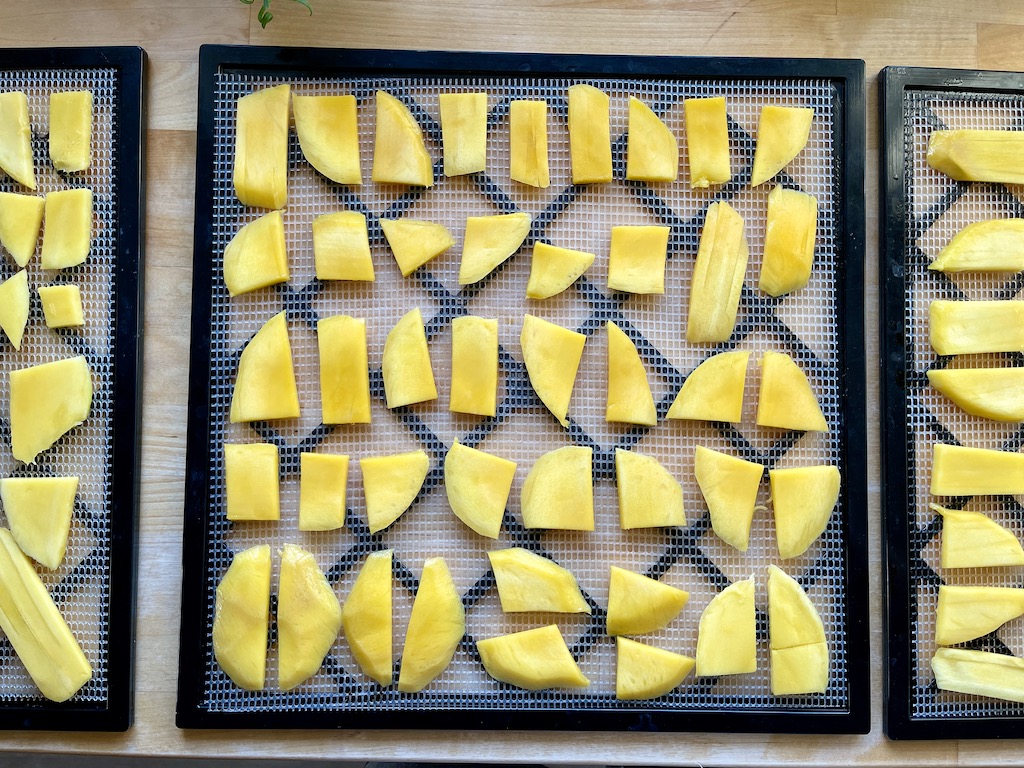 Dehydrating red bell pepper, cucumber and red onion
Remove the stem and seeds from the red bell pepper and cut it into 7 mm stripes. If desired, the stripes can also be divided into two or three.
Cut the cucumber into slices of 0.5 cm and divide the slices in half.
Peel the onion and cut the onion into rings that are 5-7 mm thick.
Temperature: 52 °C
Drying time
Red bell pepper: 6-11 hours
Cucumber: 6-10 hours
Onions: 4-12 hours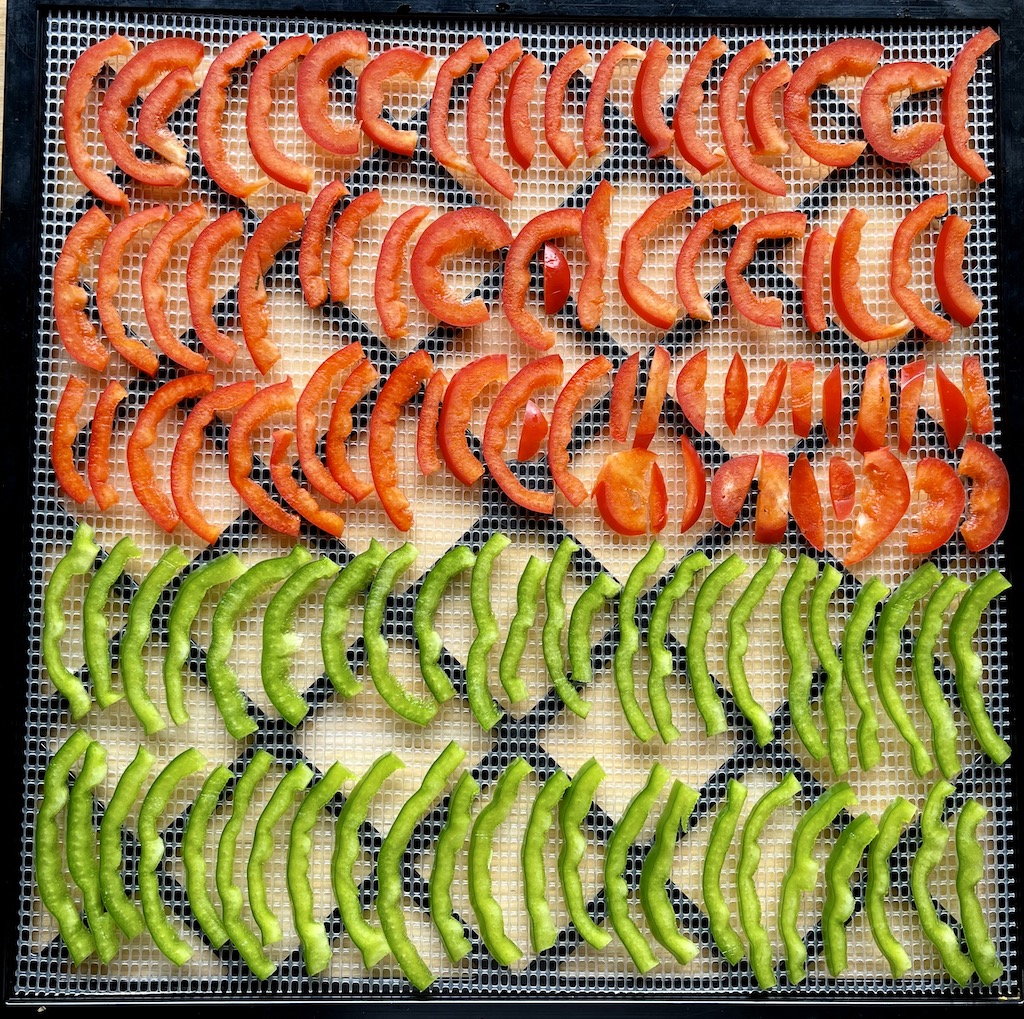 Packaging and storage of quinoa salad
Divide all dried vegetables, mango and quinoa mixture between 4 ziplock bags, airtight containers or vacuum bags – using vacuum bags significantly extends shelf life. Pack walnuts in separate bags and bring olive oil in a small travel bottle.
If you already have dried vegetables and mango earlier, then the quantity per serving will be approximately as follows:
Red paprika: 3 gr.
Red onion: 3 gr.
Mango: 17 gr.
Cucumber: 3 to 4 gr.
on trail
Mix 300 to 350 ml of cold water and the salad mixture (except walnuts and olive oil) in a thermos or cooking pot with a lid and stir well. After 2 to 3 hours, the food is rehydrated. Stir well again and mix in the walnuts and olive oil. Enjoy your meal 😋!
Nutritional content and price
Below you'll find the nutritional content and the costs of the ingredients purchased in March 2023. The price calculation includes all the ingredients except for the vegetable broth.
|  | Protein | Carbs | Fiber | Fat | Cal. | Price (nok) |
| --- | --- | --- | --- | --- | --- | --- |
| Quinoasalat | 15,2 | 51,7 | 9,7 | 41,8 | 659,8 | 42,30 |
Useful links
Publication date