Pasta Carbonara is an Italian pasta dish that includes ingredients such as eggs, cream, and Parmesan cheese. These three ingredients cannot be dehydrated in a dehydrator. Since I really enjoy pasta Carbonara, I have used Knorr's Carbonara pasta sauce as the base for this dish. To make it a bit healthier, I have added both onions, mushrooms, and broccoli. To increase the protein content, I have mixed in cooked ham. The result is a delicious pasta dish that is suitable for both lunch and dinner when you are on an adventure.
Ingredients – 4 servings
2 packets of Knorr Carbonara pasta sauce
1 teaspoon of coconut oil
300 grams of whole-grain fusilli pasta
250 grams of sliced mushrooms
Broccoli florets (approximately 320 grams – about 1 large broccoli)
3 small red onions (about 225 grams)
250 grams of cooked ham
8 tbs of powdered milk
8 tsp of all-purpose flour
prpreparing vegetables
Slice the mushrooms (I use an egg slicer for this), finely chop the onions, and cut the broccoli into small florets. The stem of the broccoli is not suitable for drying (it becomes tough and chewy). You can, however, use the stem to make broccoli soup on another occasion.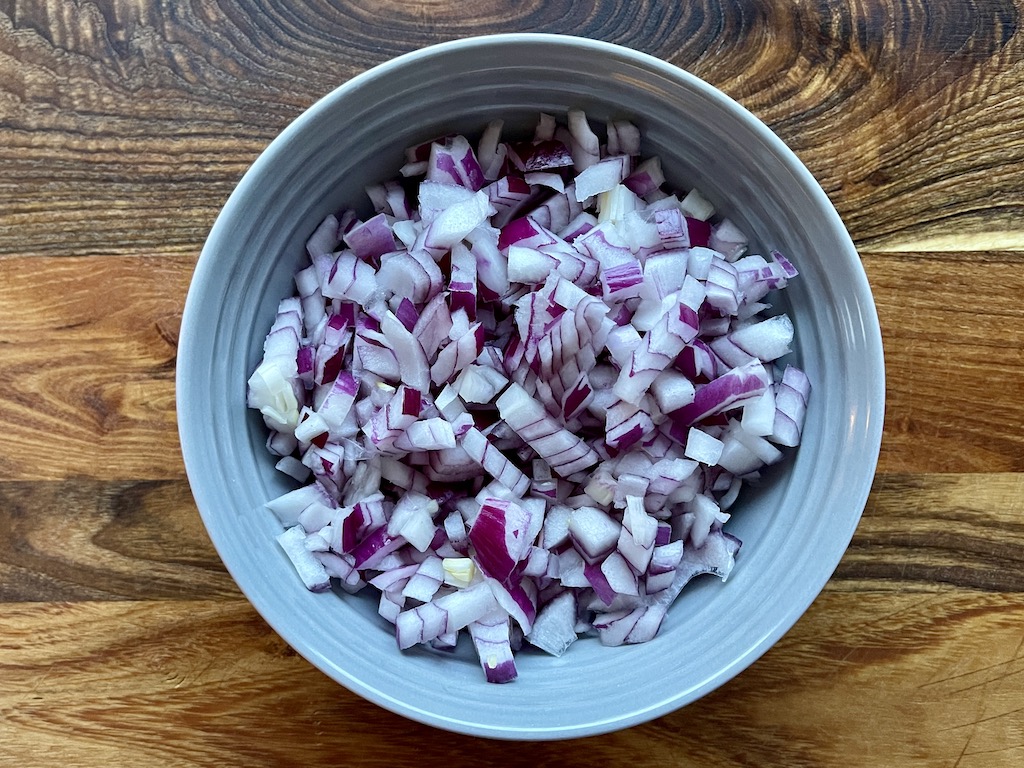 Cook the fusilli according to the package instructions. Melt the coconut oil in a non-stick pan and sauté the onions and mushrooms, seasoning with a pinch of salt and pepper. Continue cooking until the onions are translucent and the mushrooms are tender. Steam the broccoli florets for 3 minutes, then combine them with the mushroom and onion mixture. Set the pan aside and allow the vegetable mixture to cool down for a while.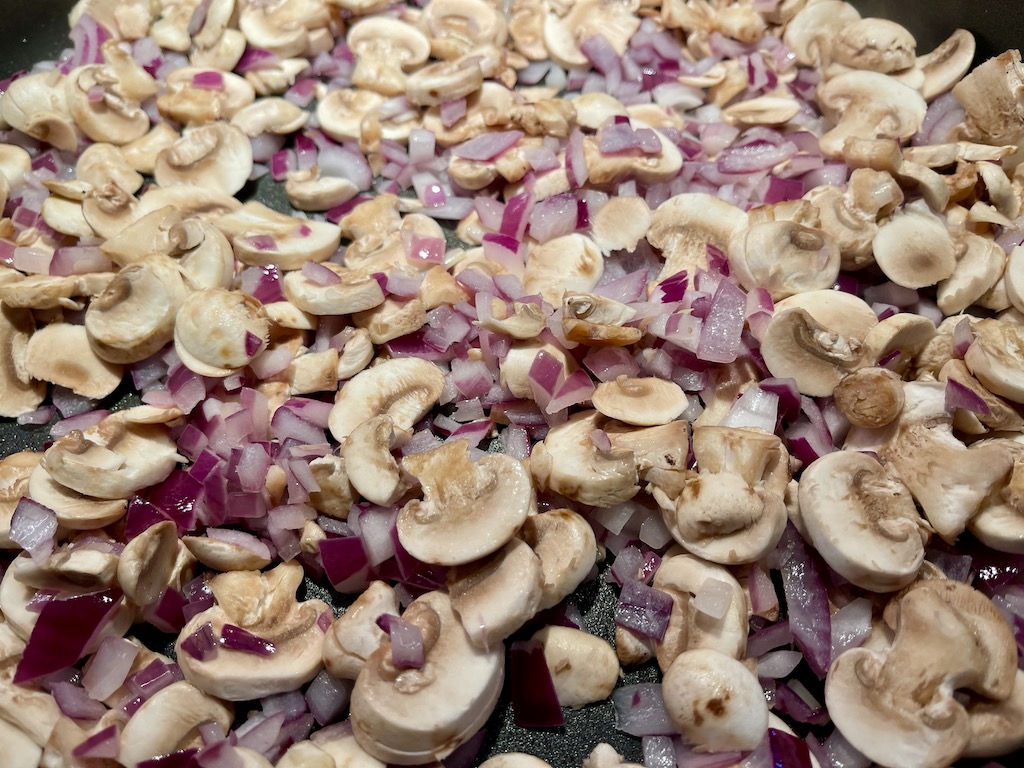 dEHYDRATING THE VEGETABLE MIXTURE
Spread the vegetable mixture evenly over 3 drying trays lined with Paraflexx baking sheets. Place all the trays in the dehydrator.
Temperature: 52°C (125°F)
Drying time: 8-10 hours
The vegetable mixture is fully dehydrated when it's completely dry, crispy, and can be easily removed from the baking sheets.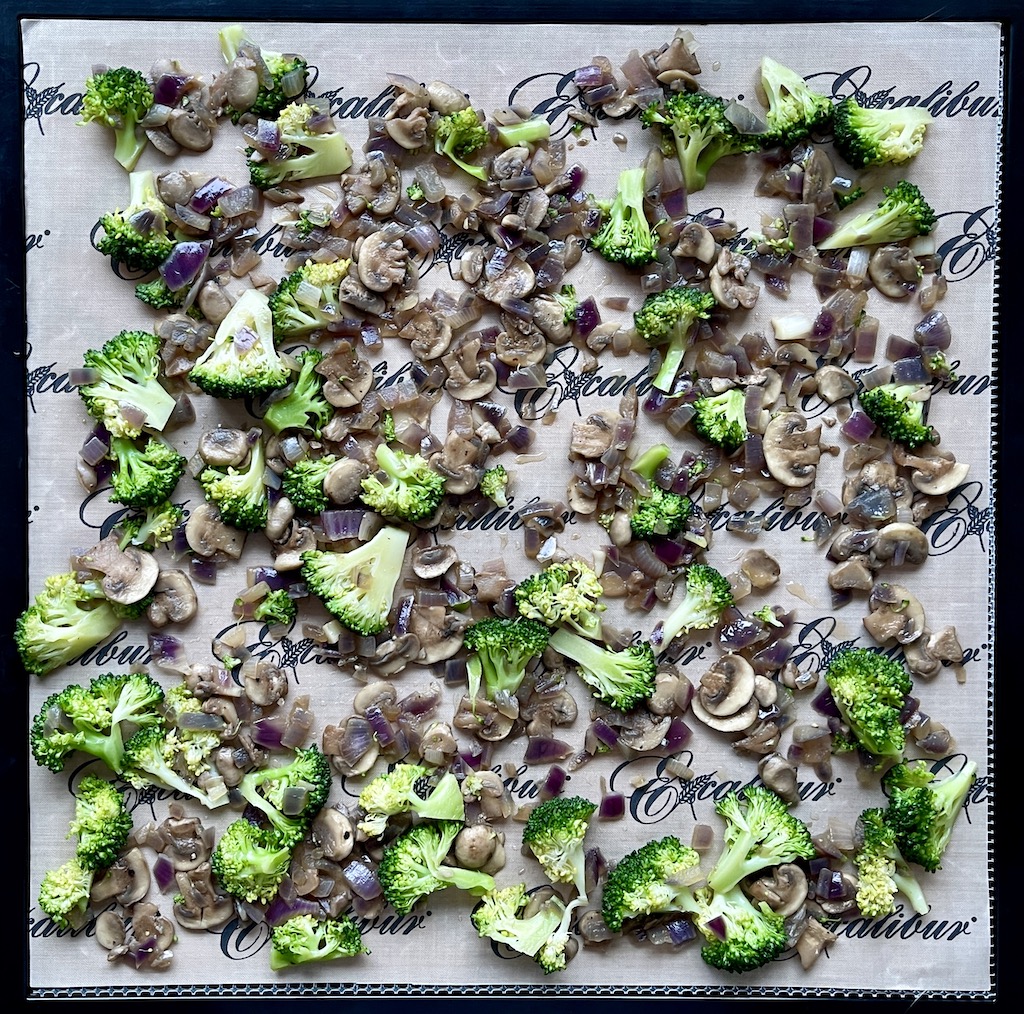 dehydrating the pasta
Spread the pasta evenly over 3 drying trays. Place all the trays in the dehydrator.
Temperature: 63°C (145°F)
Drying time: approximately 6 hours
Dried fusilli will look the same as before dehydration. After drying, the fusilli will become hard and may be difficult to snap in half.
DEHYDRATING COOKED HAM
Drying cooked ham is quite straightforward. Start by cutting the ham slices into strips, then spread them over two drying trays. Paraflexx baking sheets are not necessary for this step.
Temperature: 63°C (145°F)
Drying time: 4-6 hours
Once the ham is fully dehydrated, the strips will be hard and crisp, and they can be easily snapped into pieces.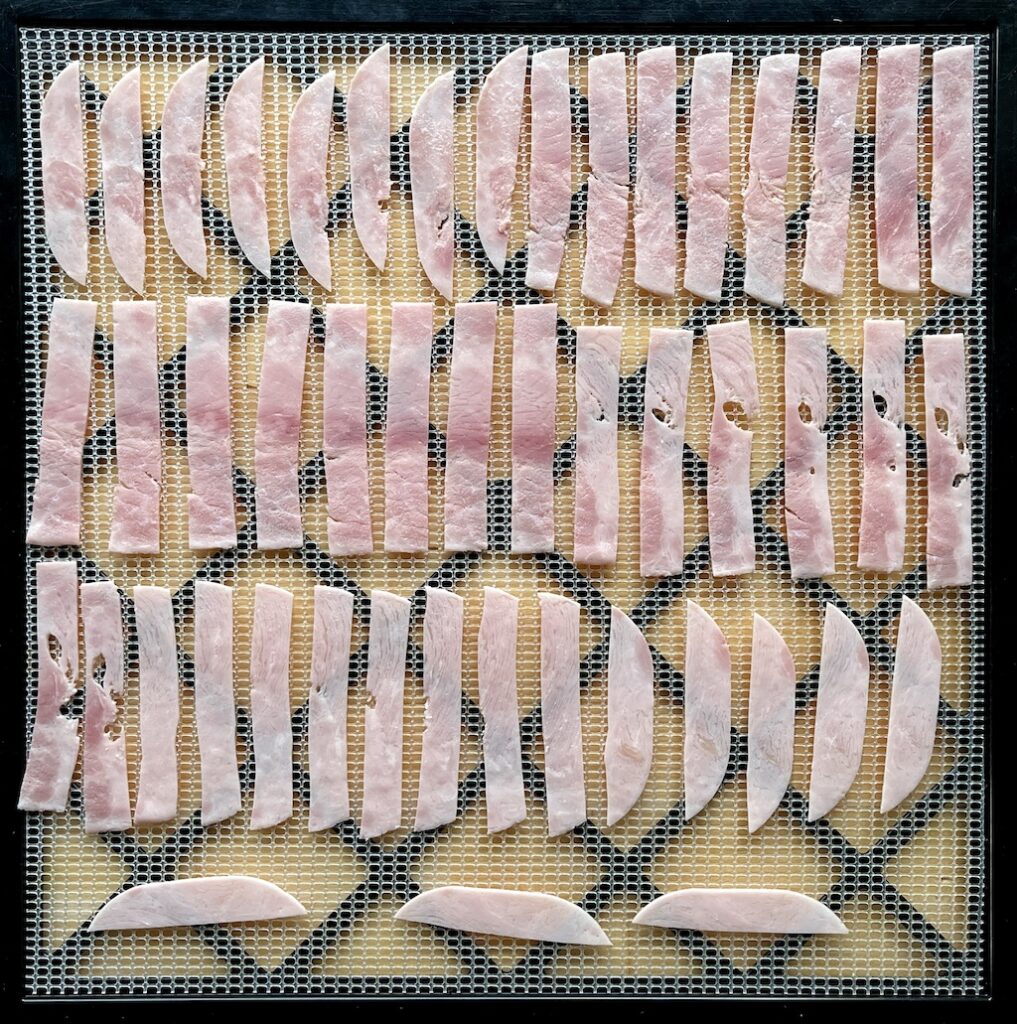 Storing dehydrated pasta Carbonara
For this dish, I recommend storing powdered milk, wheat flour, and Knorr pasta sauce in a separate bag, and cooked ham, vegetable mixture, and fusilli pasta in another bag. This separation will help prolong the shelf life of the ingredients. Since the vegetables, cooked ham, and fusilli pasta are somewhat sharp, they can puncture ziplock or food bags easily. To prevent puncturing, consider using kitchen paper towels while packing the food.
Divide the pasta, ham, and vegetable mixture among 4 bags.
Distribute the contents of two Knorr Carbonara sauce packets, 8 tablespoons of powdered milk, and 8 teaspoons of wheat flour among 4 other bags (which means per bag: 1/2 packet of Knorr Carbonara sauce, 2 tablespoons of powdered milk, and 2 teaspoons of wheat flour per bag).
Vacuum-seal the bags as demonstrated here: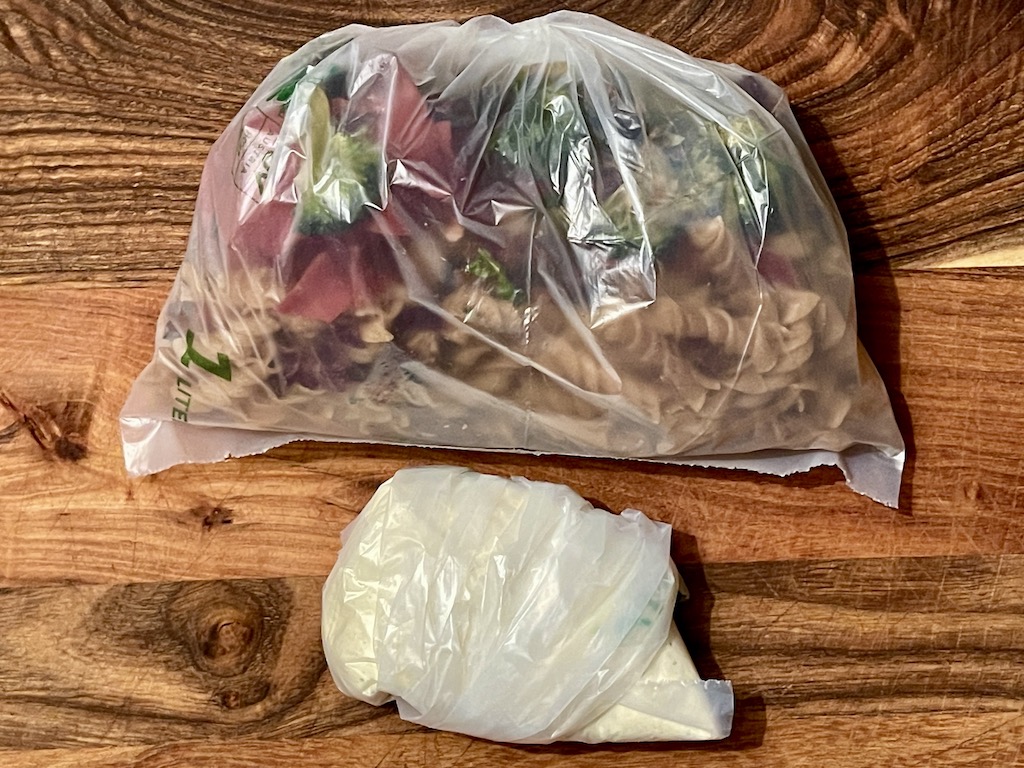 On trail
Boil 350 – 400 ml of water per serving. Begin by pouring the sauce mixture into a thermos, pot, or insulated container, and then add the boiled water. Stir thoroughly. Next, add the vegetable mix and pasta, and stir well once again. If you're using a thermos or pot with limited insulation, I suggest placing it inside a sleeping bag to help retain the heat. Allow it to sit for 15 to 20 minutes, and then give it another good stir. Now your meal is ready to be savored!
Nutritional content and price per serving
|  | Protein | Carbs | Fiber | Fat | Cal. | Price (nok) |
| --- | --- | --- | --- | --- | --- | --- |
| Pasta Carbonara | 33 | 66 | 9 | 13 | 514 | 35,50 |
Useful links