Chili con carne is one of my favorite meals for hiking, as it's not only filling but also provides a comforting warmth to the body, coupled with its intense and spicy flavor that I absolutely adore! Additionally, chili con carne serves as a nutritious outdoor meal, primarily composed of ingredients that are effortlessly dehydrated using a food dehydrator. The dish boasts a low fat content and a rich carbohydrate profile.
Number of Servings
Given our hearty appetites, this recipe is designed for 4 people. For those with smaller portions, it can easily be divided into 5 servings.
Utilize a Non-Stick Pan
Opting to cook all the ingredients in a non-stick pan is a smart choice, as it requires no more than a teaspoon of coconut oil for cooking. This approach not only minimizes the use of fats in the meal but also aids in preventing the food from becoming rancid during extended storage. To maintain optimal quality, I recommend initially cooking all ingredients in a pan and subsequently combining them in a pot for gentle simmering over low heat.
Helpful Tips
I employed 3 drying trays for the rice and 4 for the sauce during the dehydration process. When drying both the sauce and rice, remember to place Paraflexx drying sheets on the drying trays for optimal results.
Ingredients for chili con carne:
1.5 cups of basmati rice
400 grams of lean ground beef
5% fat 1 green bell pepper, diced into small cubes
1 yellow onion, chopped into small pieces
1 teaspoon of coconut oil for cooking
2 tablespoons of tomato paste
1.5 green chili peppers, finely chopped
6 cloves of garlic, finely chopped
800 grams of diced tomatoes (2 cans)
460 grams of kidney beans (2 cans)
2 teaspoons of ground cumin
1/2 teaspoon of chili powder
1/4 teaspoon of cayenne pepper
1 tablespoon of oregano
2 tablespoons of ketjap manis (sweet soy sauce)
Juice of half a lime
2 teaspoons of sugar
1 bunch of fresh cilantro, chopped
Here's how you do it:
Cook the rice according to the instructions.
In a non-stick pan, heat the coconut oil and sauté the ground beef, onion, garlic, and green chili. Use a pan with a Teflon coating and break apart the ground beef while cooking. Add salt and pepper.
Once the ground beef is fully cooked, add ground cumin, chili powder, cayenne pepper, oregano, and tomato paste. Let the spices sauté for about 1 minute.
Transfer the mixture to a pot and add the diced bell pepper and diced tomatoes. Allow the sauce to simmer gently with the lid on for about 10 minutes.
While the sauce is simmering, drain the liquid from the kidney beans and rinse them under cold running water.
Add the kidney beans to the sauce towards the end of the cooking time, and let the sauce steep for a few minutes.
Taste the sauce and adjust the flavors with lime juice, soy sauce, sugar, and if needed, a bit of salt and pepper.
Turn off the heat and stir in the chopped cilantro.
dehydrating Chili con Carne
Spread the rice across 3 drying trays with Paraflexx drying sheets, and the sauce over 3 to 4 drying trays with Paraflexx drying sheets: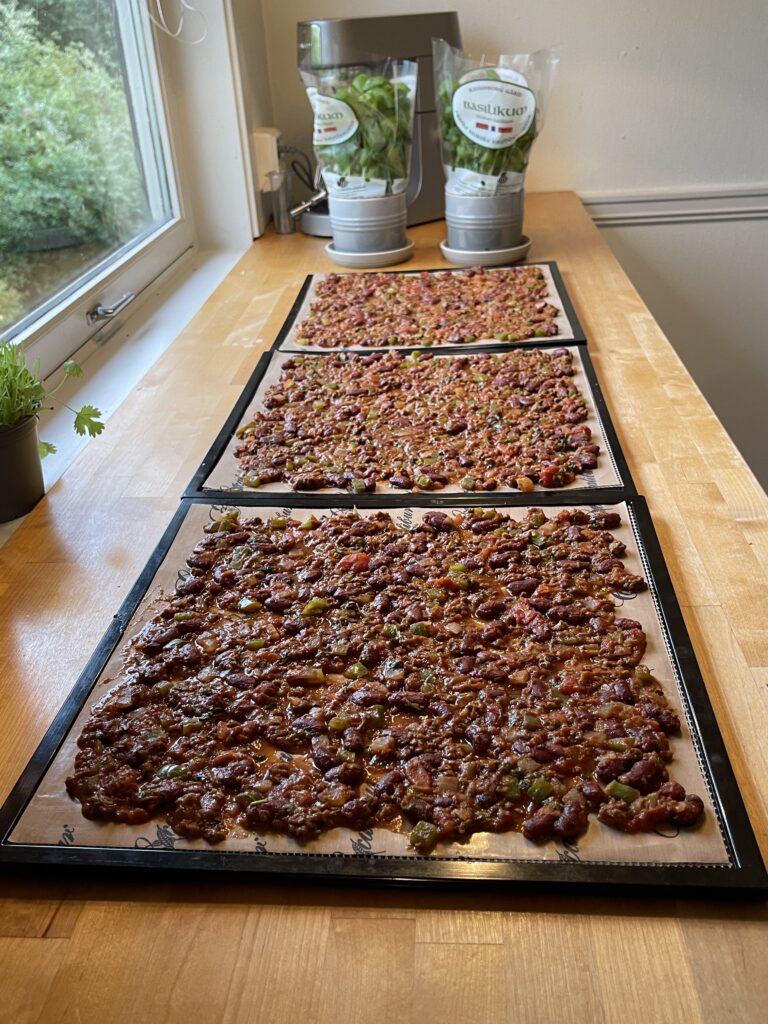 Place all drying trays in the food dehydrator.
Set the temperature to 63°C (145°F).
Rice will be fully dried after 4 to 5 hours.
The sauce will be fully dried after 9 to 12 hours.
Det ser slik ut når alt er ferdig tørket: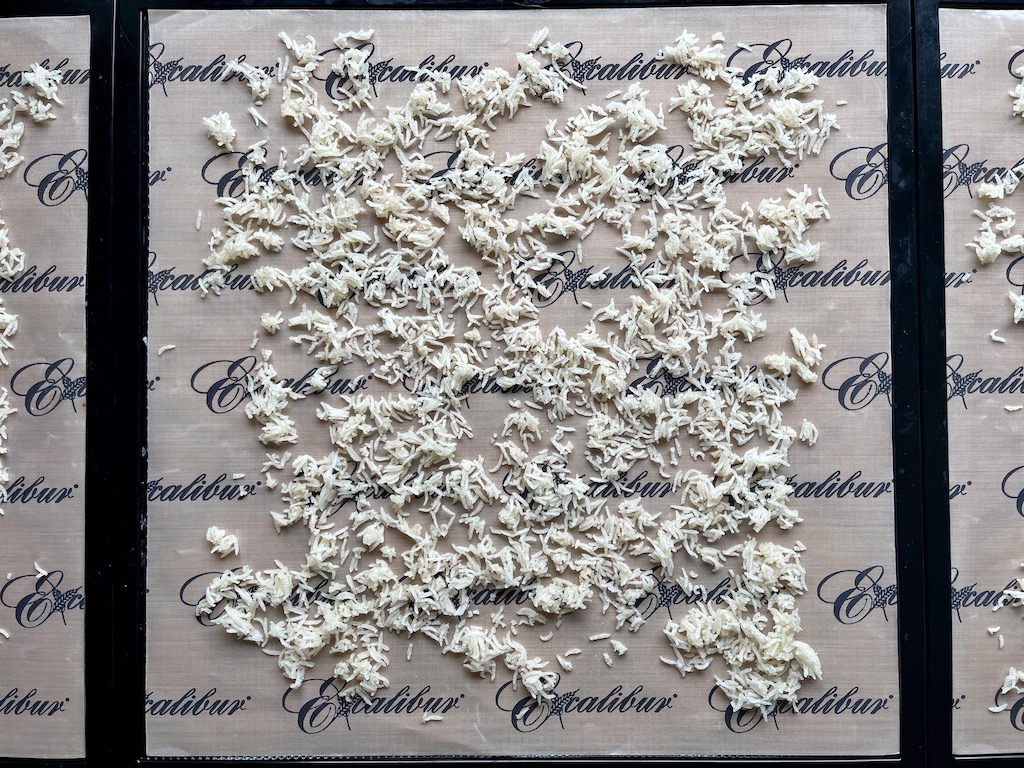 Storage
Divide the rice and sauce into 4 to 5 airtight bags with labels where you write the date, the name of the dish, the number of servings, and the amount of water needed for rehydration.
The food I dried today amounted to 190 grams of dried sauce and 200 grams of dried rice.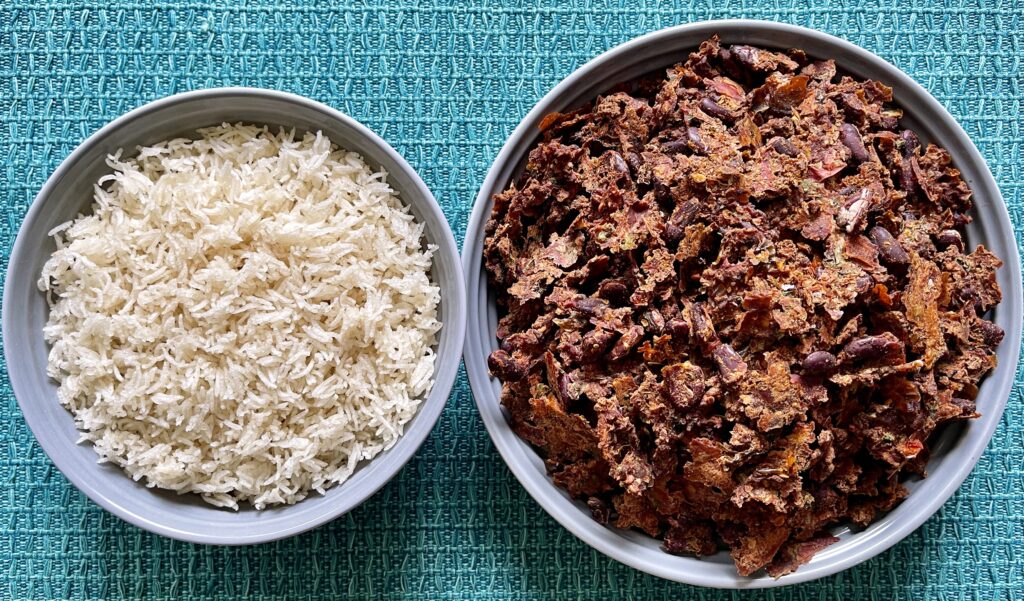 On trail
Rehydration per portion: Place the food in a pot and add around 350 ml of boiled water per serving. Stir thoroughly. Put the pot inside an insulated bag/sleeping bag and let it stand for 15-20 minutes. Stir once more, and your meal will be ready 🙂
Useful links