Game stew on a hiking trip is delicious! Game stew is calorie-rich and very flavorful. Elk and reindeer meat are well-suited for drying since they are very lean. I have adapted the recipe to make it suitable for drying in a food dehydrator. For example, I have eliminated the use of cream and other dairy products. Instead, I add Nido powdered milk from Nestlé once the food is fully dried. This way, you still achieve a creamy consistency in the stew.
Price of homemade game stew with elk meat – 52 NOK per portion
I wondered if the homemade game stew would be costly or affordable. I bought all ingredients from Kiwi in May 2022, excluding spices and energy costs from the calculation.
If you buy freeze-dried game stew in a store, the price ranges from 115 NOK to 130 NOK per portion. It's clear that you can save a lot of money by making your own trail food.
Nutritional content
I have also looked at the nutritional content of homemade game stew with elk meat. I can conclude that it is a satisfying meal with an adequate amount of calories, proteins, and fiber. All of this without any additives!
| | Proteins | Carb. | Fiber | Fat | Cal. | Pris (nok) |
| --- | --- | --- | --- | --- | --- | --- |
| Home made | 35 | 64 | 13 | 7 | 507 | 52 |
Vegetable cutting
I'm lucky to own a Kenwood Kitchen Machine. A while ago, I bought an accessory that cuts vegetables into 1×1 cm cubes. I used this accessory to dice celeriac, carrots, and onions for this backpacking meal. The cube size was perfect, and the vegetables dehydrated well. The cubes were not too large for the drying process.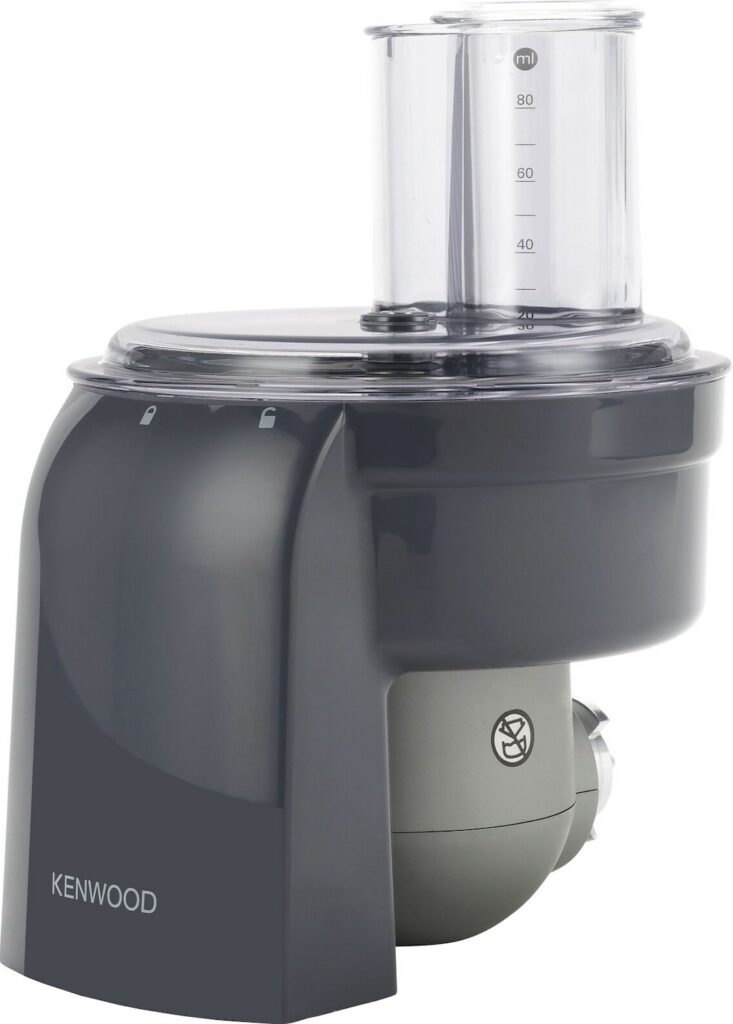 Drying the meal in two stages
For this dish, I opted to dry it in two stages as mashed potatoes require a bit more space in the food dehydrator. Additionally, the sauce and mashed potatoes are dried at different temperatures.
Sauce Ingredients – 4 servings
175 gr. yellow onion (one large or two small), diced
280 gr. carrots, diced
175 gr. celeriac, diced
150 gr. cremini mushrooms, sliced
400 gr. elk strips
1 tsp coconut oil
12 crushed juniper berries
1 tsp game seasoning
500 ml lean beef broth (from a bouillon cube)
1 tsp thyme
8 tbsp Nido powdered milk
Lingonberry jam, to taste
Salt and pepper, to taste
Preparation of the sauce
Bring the beef broth to a boil and add the carrots and celery root.
Use coconut oil to sauté the elk meat in a non-stick skillet until tender. Season the elk meat with crushed juniper berries, game seasoning, salt, and pepper while cooking. Remove the meat from the skillet and add it to the pot with the vegetables.
Using the same fat used for cooking the elk meat, sauté the onions and mushrooms until the mushrooms start to release their moisture. Pour the sautéed onions and mushrooms into the pot with the vegetables and meat. Let the game stew simmer for 15 minutes or until the carrots and celery root are tender.
Stir in lingonberry jam to taste. If the sauce is slightly thin, you can mix 2 tbsp of wheat flour with a little cold water and add it to the sauce. This will thicken the sauce slightly and make it easier to spread on the drying trays.
Dehydrating the game stew sauce
Spread the sauce evenly in a thin layer over 3 or more drying trays lined with drying sheets.
Temperature: 63°C
Drying time: 7-8 hours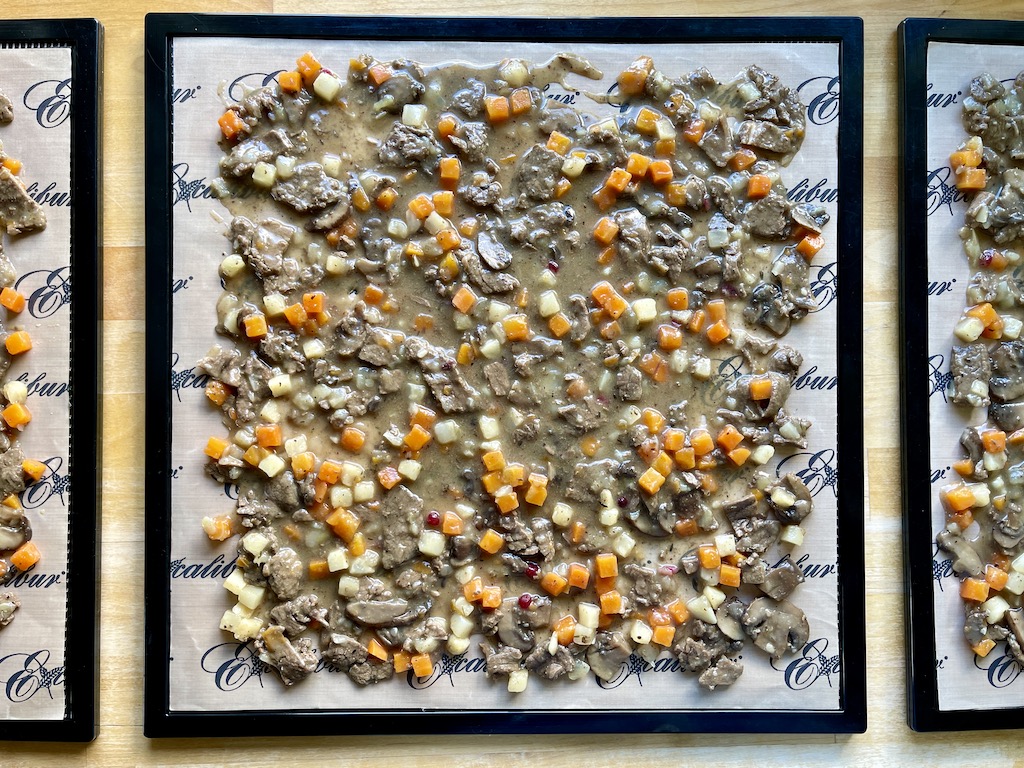 Mashed potato ingredients
1 kg peeled potatoes
300-500 ml vegetable broth
Salt and pepper, to taste
Preparation of the mashed potatoes
Boil the potatoes until tender. Make a mash using the vegetable broth. Add enough broth to achieve a smooth consistency and to make it easy to spread evenly on the drying trays. I used a blender to achieve a smooth mash.
Dehydrating mashes potatoes
Spread the mashed potatoes in an even layer over 5 or more drying trays lined with drying sheets.
Temperature: 57°C
Drying time: 7-9 hours.
It's a good idea to flip the mashed potatoes after about 5 hours to ensure even drying on both sides.
Once the mashed potatoes are fully dried and cooled down, grind them into a powder using a blender.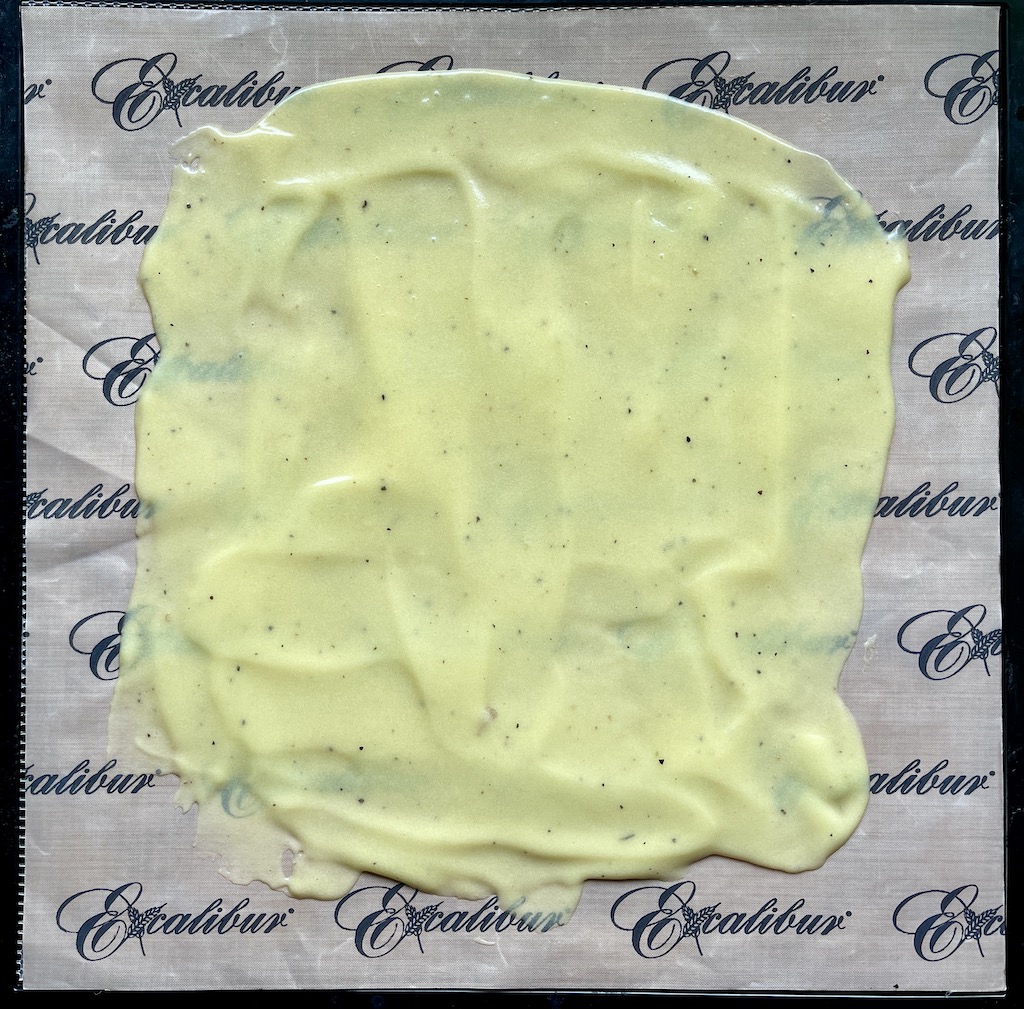 Storage of the game stew
Divide the game stew sauce and mashed potatoes into 4 airtight containers, ziplock bags, or vacuum-sealed bags. Add 2 tablespoons (15 grams) of Nido dry milk to each portion. For extended shelf life, I freeze the bags.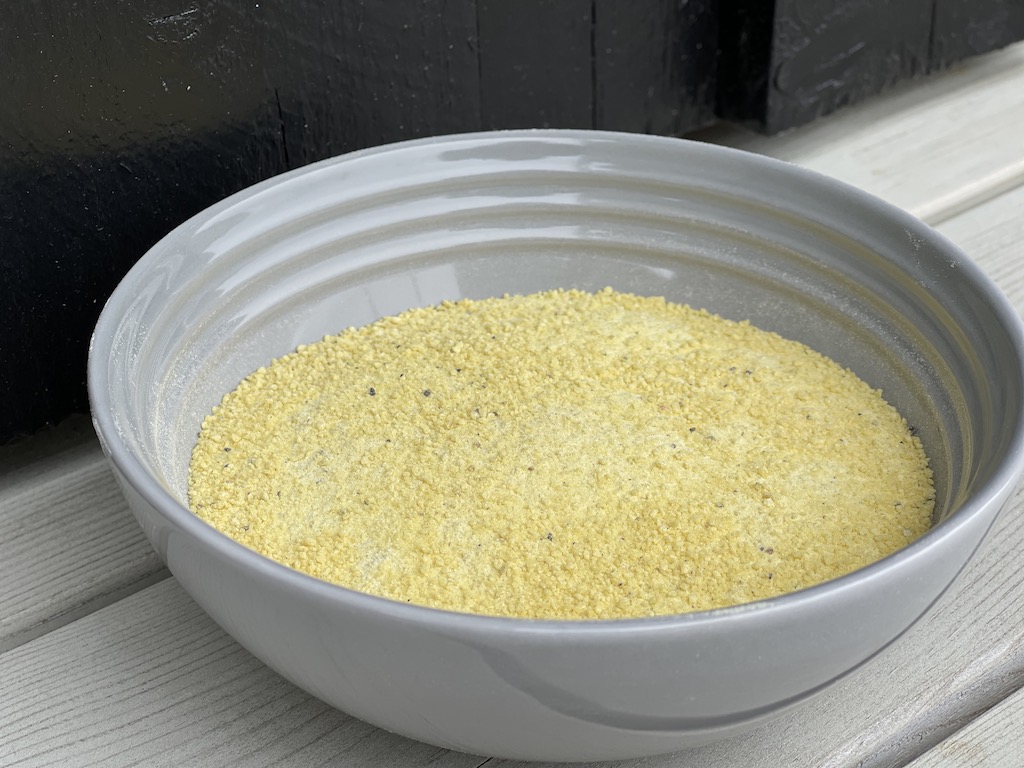 On trail
Boil 350 ml per serving and mix the water with the food in a pot or thermos. Stir well. Place the pot or thermos in a sleeping bag and wait for 15 to 20 minutes, then stir again. I prefer adding a dollop of butter in the last 5 minutes for extra calories and a richer flavor. When the food is fully rehydrated, stir well again before eating. On the page rehydration, you can read more about rehydrating food while on a trip.
Bon appétit on your journey!!