Do you enjoy the bold flavors of spicy cuisine, exotic spices, and the freshness of cilantro? If so, Mexican stew might be your perfect meal. This hearty stew features wholesome ingredients like chickpeas, lentils, onions, and peppers, and it comes with a zesty punch. If you're not a fan of spicy food, you can simply skip the chili powder.
I recommend using canned lentils and chickpeas for the best rehydration results. Lentils and chickpeas that require overnight soaking can sometimes stay too firm during rehydration. This time, I've taken the extra step of preparing the meat, rice, and sauce separately.
Meat – ingredients
400g minced pork (max. 9% fat)
2 tablespoons paprika powder
3/4 teaspoon chili powder
1 teaspoon oregano
1/2 teaspoon ground coriander
1 teaspoon cumin
1/2 teaspoon pepper
1 teaspoon salt
1/2 teaspoon coconut oil
Sauce – ingredients
1 can of chickpeas
1 can of lentils
5 cloves of garlic, minced
1 red chili, finely chopped
100g paprika, cut into cubes
1 onion, chopped
15g fresh coriander (1 bunch), chopped
1 can of crushed tomatoes
1 chicken stock cube
200ml water
1/2 teaspoon coconut oil
rice – ingredients
220g whole grain rice (2 boil-in-bag)
1/2 teaspoon salt
MEAT – PREPARATION AND DRYING
Melt coconut oil in a non-stick frying pan and cook the minced meat. Mix in the spices while cooking and ensure that the meat is thoroughly cooked. When the meat is done, wait for it to cool before spreading it over a drying tray with a paraflexx drying sheet.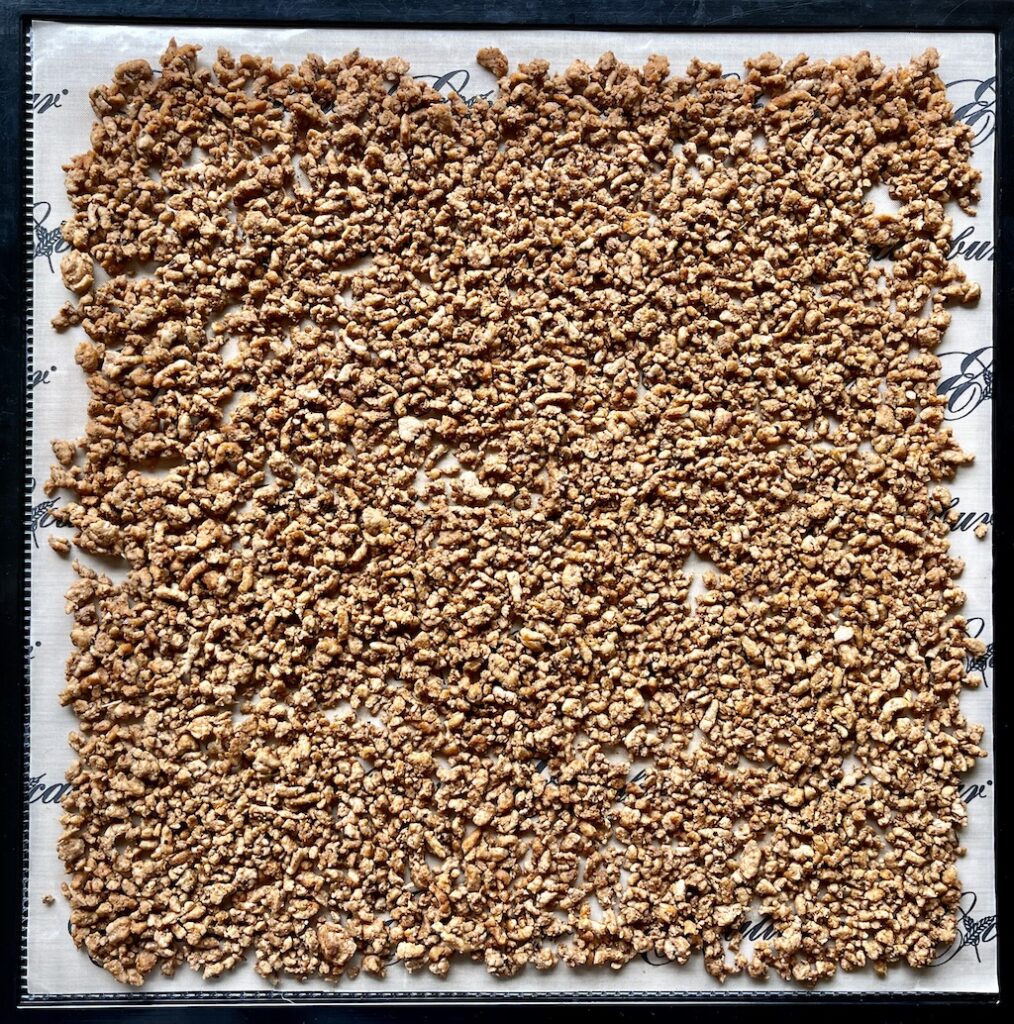 Temperature: 63°C (145°F)
Drying time: 3-5 hours
Number of trays: 1
RICE – PREPARATION AND DRYING
Cook the rice according to the instructions. Once the rice is cooked, evenly distribute it over two drying trays lined with paraflexx drying sheets.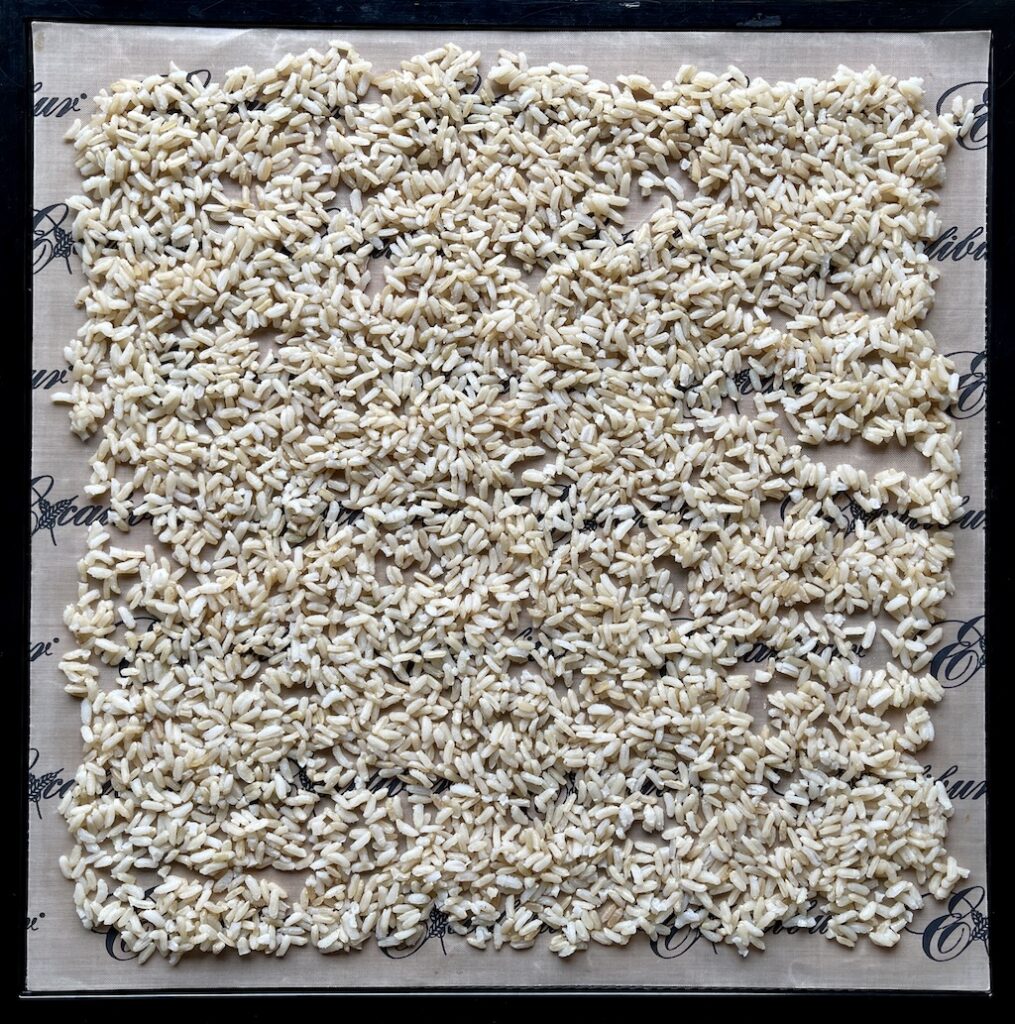 Temperature: 63°C (145°F)
Drying time: 4-6 hours
sauce – preparation and drying
Drain the chickpeas and lentils in a colander, rinse them thoroughly under cold water, and allow them to drain.
In a frying pan with a Teflon coating, heat the coconut oil. Sauté the onion, garlic, and red chili together until the onion becomes translucent and soft. Transfer this mixture to a pot, and add water, a stock cube, paprika, and crushed tomatoes. Allow the sauce to simmer over low heat for 10 minutes. Add the chickpeas and lentils, and let the sauce simmer for an additional 5 minutes. Remove the pot from the heat, and stir in the chopped coriander. The sauce should cool before being spread onto 2 drying trays lined with paraflexx baking sheets.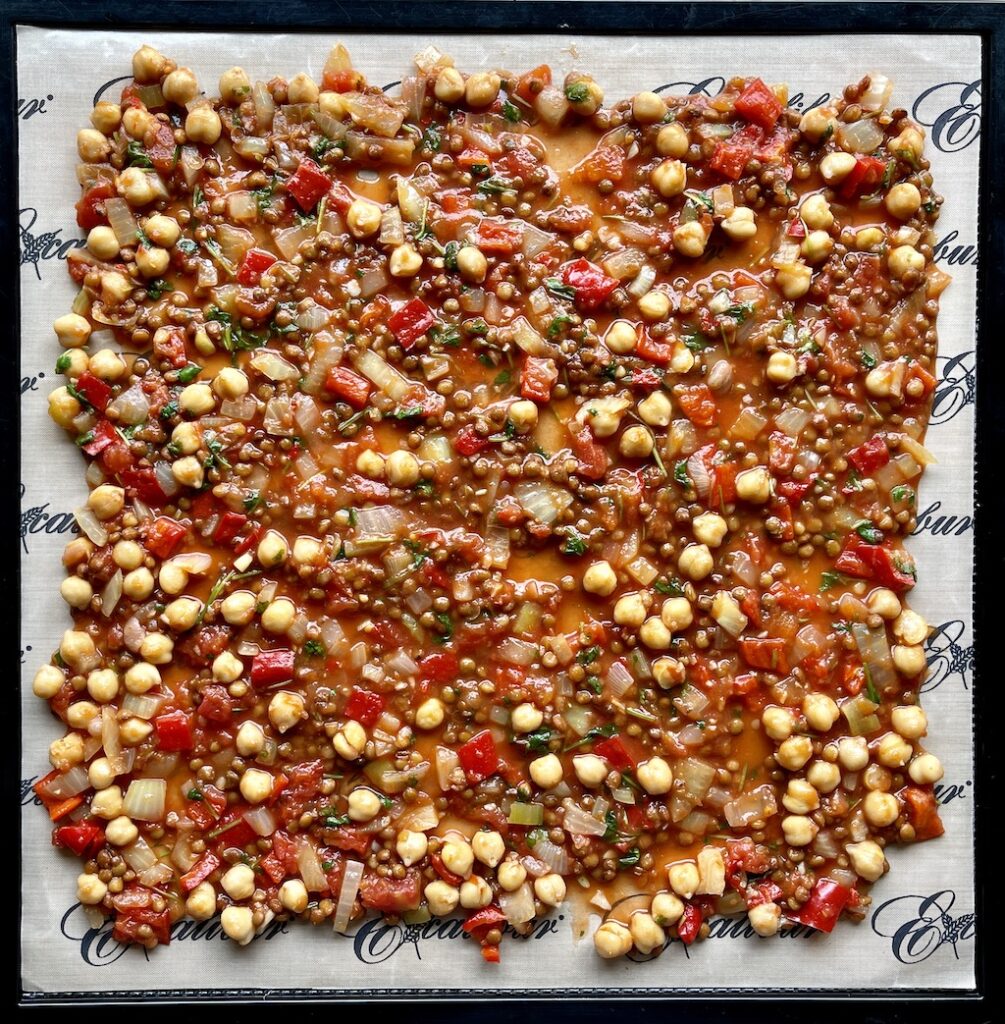 Temperature: 57°C (135°F)
Drying time: 8-11 hours
Number of trays: 2
Storage of Mexican Stew
Divide both the sauce, rice, and meat into 4 ziplock bags, airtight containers, or vacuum-sealed bags. If it will be a while before you use the food on your trip, I recommend freezing it for later use.
On trail
Boil 300 to 350 ml of water per serving and mix it with the food in a pot or thermos. Stir well. Place the pot or thermos inside a sleeping bag and wait for 15 to 20 minutes, then stir well again. If you have olive oil with you on the trip, you can add a dash of olive oil once the food is fully rehydrated. Stir well again before eating.
Useful links